How to Make Rice Crispy Treats may earn compensation from purchases made after clicking links on this page. Learn more Here.
This is a list of the very best, easy christmas cookie exchange recipes. From bright colors and holiday sprinkles to holiday flavors like chocolate and peppermint. There are a wide range of cookies from holiday pinwheels to chewy gingersnaps.
Jump to:
One fun holiday tradition is all of the sweet baked good that everyone makes and enjoys. So, it's no wonder that there are a plethora of different types, shapes and flavors of christmas cookies out there.
But, unfortunately, we can't make them all every year. So, we looked at some of the very best easy christmas cookie exchange recipes and narrowed them down based on ease of making, time spent in the kitchen and overall flavor and look.
Keep on scrolling to see which cookies make our nice list.
Oreo Red Velvet Cookies
These delicious and decadent oreo red velvet cookies are jam packed full of sweet flavor. Their bright red color makes them well suited to serving at the holidays.
Why they are good: this recipe is quite easy to make, no chill time is required. You can make them from scratch or use a cake mix to make them even faster.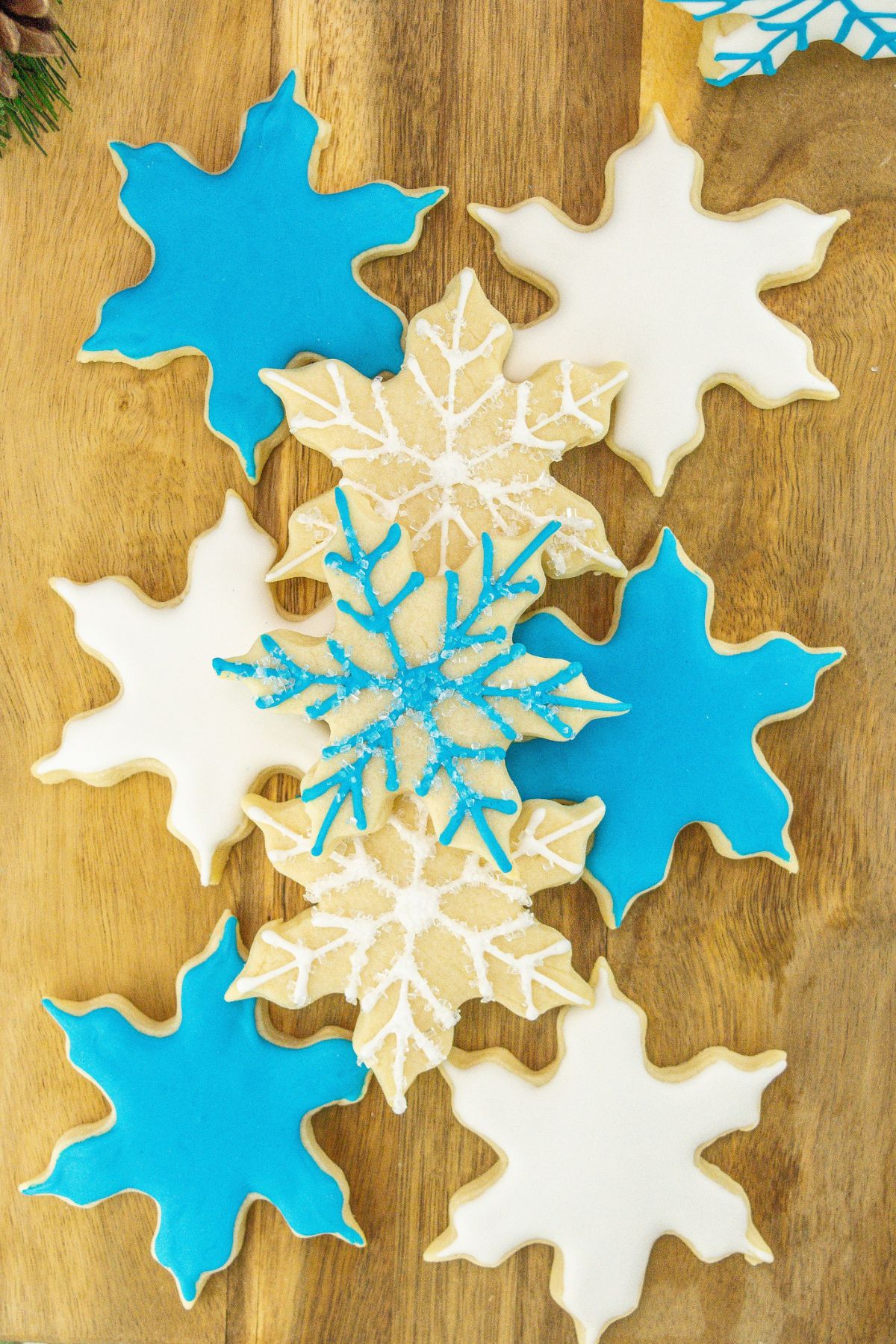 Snowflake Cut-out Sugar Cookies
Create a winter wonderland with these Snowflake sugar cookies. Sweet, classic sugar cookie flavor topped sweet icing and decorated just like winter. These cookies are a beautiful and elegant looking with their bright blues and whites.
Why they're good: these cookies look super fancy, but are quite easy to make using cookie cutters and the perfect icing. Customize their decorations as you like.
Easy Gingerbread Men Cookies
Nothing says holidays much more than gingerbread men cookies. These cookies are full of sweet and spicy flavors that are typical in holiday desserts.
Why they're good: a fun decorating project for kids and adults alike. You can customize their decorations to be exactly what you want.
Christmas Pinwheel Cookies
Bright and colorful, these christmas pinwheel cookies are the epitome of holiday festivities. Full of bright red swirls and colorful holiday sprinkles all on top of a classic sugar cookie dough.
Why they're good: easily customizable by changing food coloring used and sprinkled used. They have a perfect, soft sugar cookie texture.
Raspberry Linzer Cookies
These raspberry linzer cookies are full of almond, sugar and raspberry flavors. Topped with powdered sugar and complete with a peak-a-boo cut out filled with jam.
Why they're good: these cookies are super easy to customize in flavor by switching out the type of jam used. You can also easily change the shape by using different cookie cutters.
Chewy Gingersnap Cookies
This list of easy christmas cookies wouldn't be complete without a good soft & chewy gingersnap cookie. These cookies are sweet, spicy and aromatic with warm flavors perfect for winter.
Why they're good: they're a simple recipe that only takes 25 minutes, just mix, bake and eat. Additionally, they are packed with a traditional winter flavor combination.
Christmas Butter Cookies
These Christmas butter cookies are full of sweet, delicious butter flavor. To make them even better, they are dipped in chocolate and topped with holiday sprinkles to give them a fancy and festive look.
Why they're good: these cookies are delicate and sweet. They take a little longer to make, but you can easily customize their decorations.
Chocolate Crinkle Cookies
These chocolate peppermint crinkle cookies are full of holiday flavors. They are a rich chocolate bursting with fresh peppermint all topped off with sweet powdered sugar.
Why they're good: no fancy decorating, cookies cutters or anything needed for these cookies. So, they're super fast to make in under 30 minutes.
Snowball Cookies (without nuts)
These snowball cookies without nuts are a classic holiday cookie. If you prefer a little crunch, you can easily add in pecans or walnuts. These soft and delicate cookies are perfectly topped with powdered sugar.
Why they're good: minimal ingredients are needed (only 5). And, they're super fast and easy to make in under 20 minutes.
White Chocolate Dipped Chocolate Cookies
These are full of chocolate and peppermint flavors which are a perfect match for the winter holidays. The white chocolate dipping and crushed peppermint candies make these cookies look fancy and festive while adding an extra punch of sweet flavor.
Why they're good: they are ready in 30 minutes, but still have a fancy look that makes them great for gifting. Plus they are packed with flavors.