The ooey, gooey goodness of Rice Krispie Treats is hard to beat. You can of course, buy them pre-made at the store. Or, you can learn how to make Rice Krispie Treats yourself.
Rice Krispie Treats are so delicious. As extra bonuses, they are also easy to make, no baking necessary and only three ingredients. Could you ask for a simpler snack?
Best Rice Krispie Treats Ever!
Ok, so now that you're sold on how awesome Rice Krispie Treats are, let's get down to how to make the BEST Rice Krispie Treats EVER!
Ingredients & Supplies Needed
Rice Krispies (of course)
Salted Butter
Marshmallows
A quick note on the ingredients. I'm not typically tied to one single brand of a food or item. However, after using a few different brands of marshmallows, I highly recommend splurging for the Kraft Jet Puffed Marshmallows.
I thought, hey, I'll save a buck and get the store brand. And honestly, there was a significant quality difference in the treats. They were way too sticky and fell apart. I made a few batches and also just in general they were more difficult to work with.
Instructions
Step one
The first thing you need to do is get your butter and marshmallows melted and mixed up together.
You can melt them in one of two ways. You can use the stove top or you can use the microwave.
On the stove, you'll want to melt your butter first and then add your marshmallows in and melt them. Do this on a low to medium heat, stirring often.
Step two
Once your melted butter and marshmallows are mixed well, add in your Rice Krispies. It's important to ensure that you get it all equally distributed.
If it is not mixed well, you'll end up with parts of your treats that are just cereal or just marshmallows which will mess up the overall texture.
Step three
Next, it's time to get them set in the pan. Since the marshmallows stick to everything they touch, you'll want to grease the pan and the spatula. This will make it much easier to spread the mixture out.
Using the spatula, take the mixture from your bowl or pit and transfer it to your pan. Spread it as evenly as possible so that your treats don't end up hugely different thicknesses.
Step four
Let your treats cool. This usually will take 20-40 minutes. Once they're set, you can cut them into bars and eat!
Why Do My Rice Krispie Treats Get Hard?
One of the best qualities to these treats is their chewy texture. So, you definitely don't want them to be hard.
The most common reason that you'll end up with hard treats is due to overheating your marshmallows. So make sure to heat them on low. Or is using the microwave only do 30-60 second intervals and check and stir them before putting them in for more time.
How Do You Store Rice Krispie Treats?
To maintain maximum texture and freshness, you'll want to store them in an air tight container. Most people prefer to keep them at room temperature.
However, I prefer mine to be a tad more stiff than typical and so I usually store mine in an air tight container in the refrigerator. I have found that they don't suffer quality of kept this way for up to a week.
Can You Freeze Rice Krispie Treats?
Yes, you can! If you won't finish your treats within about seven days then you'll need another plan for them.
In this case, I like to place wax paper between each treat and place them in a zippered freezer bag.
Other Variations
The possible variations of Rice Krispie Treats is virtually endless. By adding in a few ingredients, you can make all kinds like Peanut Butter Rice Krispie Treats, M&M Rice Krispie Treats, Marshmallow Fluff Rice Krispie Treats, or other cereal treats like these Fruity Pebble Treats. You can even make Microwave Rice Krispie Treats.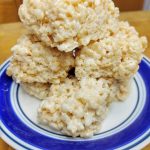 Print Recipe
Original Rice Krispie Treats
Equipment
9×13 Pan

Spatula

Large mixing bowl
Ingredients
6

Cups

Rice Krispies

4

Tbsp

Salted Butter

10

oz

Marshmallows
Instructions
Add the butter & marshmallows in a bowl and melt them together. This can be done in the microwave or on the stove top.

add in Rice Krispies and mix thoroughly

Thoroughly and evenly mix the marshmallows and Rice Krispies together.

Spread the mixture into a greased pan with a greased spatula.

Allow mixture to cool (about 30 minutes), cut into squares and enjoy!
For More Delicious Rice Krispie Treats