How to Make Rice Crispy Treats may earn compensation from purchases made after clicking links on this page. Learn more Here.
Making Rice Krispie Treats for holidays, birthday parties, special occasions, or just for fun, are made even better when you can add in fun shapes. That is where Cookie Cutter Rice Krispie Treats really shine.
Cookie Cutter Rice Krispie Treats
Cookie Cutters make it possible to celebrate any kind of occasion with an easy to make Rice Krispie Treat variation. So if you need something special for the holidays (like Christmas, Halloween, St. Patrick's Day, etc), or you just want to have some fun themed snacks, this is the article for you.
All you need to get started is a recipe for some Original Rice Krispie Treats and some cookie cutters.
Animal Rice Krispie Treats
Animals are a ton of fun to make with cookie cutters. But the fun doesn't just stop at the shape. You can also decorate them for an even better time!
Unicorn Rice Krispie Treats are so much fun to make and they taste great! You just need some white or vanilla cake frosting, rainbow sprinkles, and a few other things.
Rice Krispie Treat Chicks are perfect for springtime. You'll need to know how to make Yellow Rice Krispie Treats and have some black decorating gel, decorative candy eyeballs, and candy corn on hand.
We promise, these treats are not nearly as irritating as the song is. In fact, they may provide a little solace for the parents who must endure that wretched tune. Start with a pan of Blue Rice Krispie Treats, add some candy eyes and red decorating gel and you're done!
Minnie Mouse Rice Krispie Treats
These super cute treats are made from cocoa krispies and have a cute red bow as decoration.
Mickey Mouse Rice Krispie Treats
These super treats are made from cocoa krispies and use two different sized cookie cutters in order to make mickeys head and ears.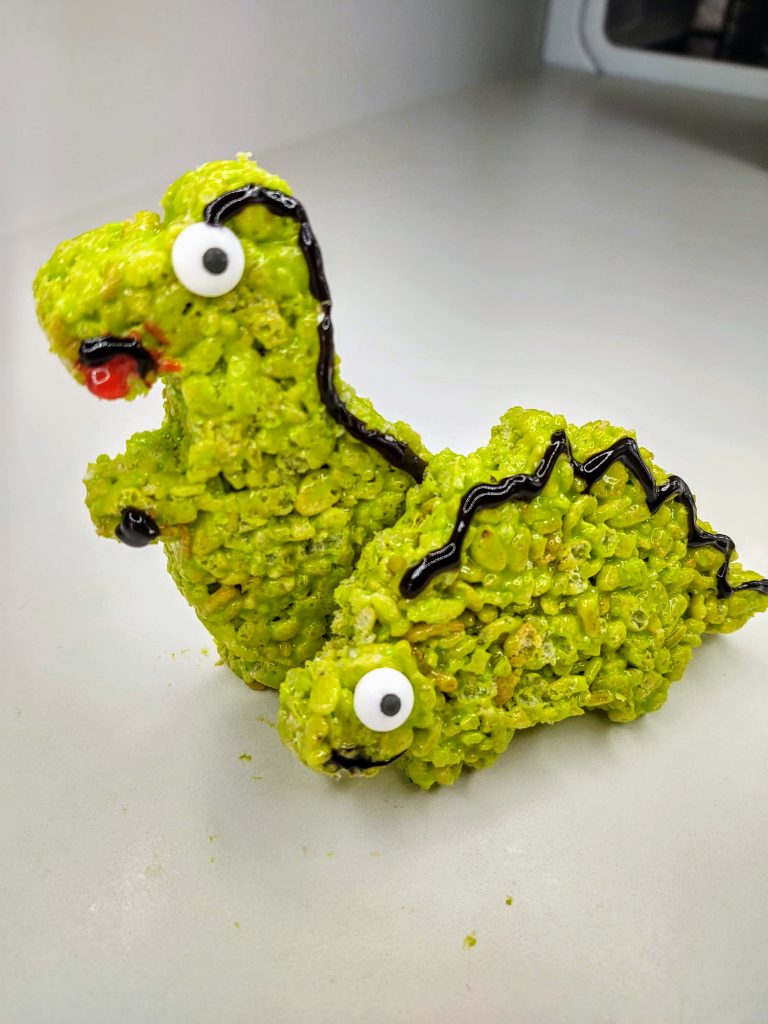 You may have noticed a theme with some of these recipes. A lot of them use Colored Rice Krispie Treats. Don't let that scare you, Dinosaur Rice Krispie Treats, as well as, any of the other's with food coloring are super fun and easy to make.
These cute mermaid rice krispie treats use part cookie cutter and part food coloring. Then you can decorate them and get as creative as you want.
Christmas Rice Krispie Treats
All you need for these is some Red Rice Krispie Treats, mini marshmallows, and white icing. They go great with Santa, Santa Hat, Wreath Rice Krispie Treats, as well as the next recipe...
How can you have any kind of Christmas themed snacks and not have a Christmas Tree? You can't! Which is exactly why we included this fun recipe.
Miscellaneous Rice Krispie Treats
Ghost Rice Krispie Treats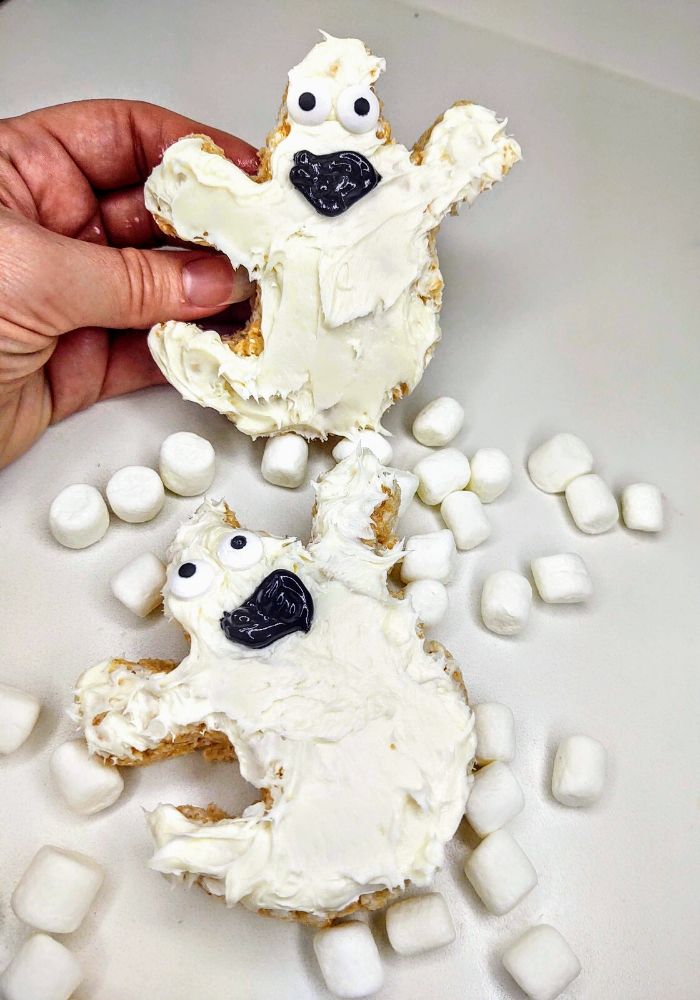 Celebrate Halloween with a fun Ghost Rice Krispie Treats dessert project! Get creative with these. We promise you'll have a spook-tacular time!
Disney Frozen Theme Rice Krispie Treats
Do you want to build a snowman...shaped Rice Krispie Treat? If you are as obsessed with Disney's Frozen as we are you will love making this recipe. They are so much fun you won't be able to stop O-laf-ing (okay, I'm done now).
These pink rice krispie treats are cut into heart shapes with a cookie cutter. They are super easy to make and perfect for Valentine's Day, Anniversaries or other celebrations.
These super cute bright green shamrock rice krispie treats are easy to make with a little food coloring and a clover shaped cookie cutter.
Wizard Of Oz Rice Krispie Treats
So, technically the yellow brick road isn't cut using cookie cutters, but the ruby red slipper is. These are especially fun to make for a family movie night.
Flower Rice Krispie Treats
Finally, we have some fun Flower Rice Krispie Treats. We only used a few colors with these but you can use your imagination and make them any color you want.
Final Thought
Which of these recipes ended up being your favorite? Let us know in the comments below.
For more Rice Krispie Treats...
[pt_view id="3486d4b4hk"]