As if Rice Krispie Treats weren't magical enough already, we figured out a way to make them even more so. These Unicorn Rice Krispie Treats are so much fun!
How to make Unicorn Rice Krispie Treats
If you have kids, they will LOVE this as a project they can eat. If you don't, YOU will love this for the same reasons.
If you've ever tried out one of our other cookie cutter recipes, like Frozen Theme Rice Krispie Treats or Dinosaur Rice Krispie Treats, this will be easy for you to do. The most fun part though is at the end when you get to be creative and decorate your unicorn.
Whenever we have a recipe that is a bit more intricate, like decorating or specific cuts, we make it as a half batch. That makes the treats thinner and easier to cut. But if you want a full sized batch, you can easily double the ingredients.
Step One
You will start with your large stock pot. Put it on your stove top burner of choice and set your heat to medium. Put 2 tablespoons of butter into the pot and allow it to melt.
Once your butter is mostly melted, add in half a 16 oz bag of Jet Puff Marshmallows. Stir them together until your marshmallows are completely melted and your marshmallows have a nice buttery yellow hue to them.
Cut the heat to low or medium-low. That is to avoid overcooking your marshmallows. Overcooked marshmallows become rigid and difficult to work with.
Step Two
Measure out 3 cups of Rice Krispies and dump them into the marshmallow butter mix. Stir everything together with your spatula until all of the cereal is completely coated.
Step Three
Coat the sides and bottom of your 8 x 8 baking pan with Canola oil or any flavorless baking spray. This will keep the cooled treats from sticking to the pan when it's time to cut them.
Use you spatula to scoop the treat mix from the pot and into the pan. Flatten them out completely into the bottom of the pan and set to the side and allow to cool.
While waiting for it to cool, you can get out your unicorn cookie cutters and other decorating supplies.
Step Four
For a batch this size, you should be able to get 4 or more unicorn shapes, depending on the size of your cookie cutter. Place your cookie cutter in position and press down firmly and evenly. Lift the cutter up and use a knife or spatula to remove any excess treat.
Continue until you have all of your cutouts ready. Marshmallow treats are nice for these projects because you can usually take all of that extra treat you trimmed off of each cutout, smoosh them all back together, and get another cutout out of them.
Step Five
Now comes the fun part. Take out your vanilla cake frosting and cover the top face of the unicorn treat. Do this for all of your unicorns.
Take out your black writing gel and color in your unicorns muzzle/nose area. Take some rainbow sprinkles and sprinkle them along the long side of the treat to make the unicorn's mane. Finally, use a bit of gold sprinkles to cover make the gown nice and sparkly. Place a candy eye on the face and "voila!" you have a magical unicorn!
We'd love to see what kind of interesting ideas you come up with. Let us know in the comments below.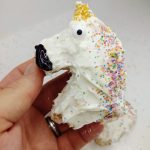 Print Recipe
Unicorn Rice Krispie Treats
Equipment
8×8 Pan

Spatula

Large mixing bowl

Unicorn Cookie Cutter
Ingredients
3

Cups

Rice Krispies

2

Tbsp

Salted Butter

8

oz

Marshmallows

1

black writing gel

vanilla cake icing

candy eyes

gold sprinkles

rainbow sprinkles
Instructions
add the butter & marshmallows in a bowl and melt them together. This can be done in the microwave or on the stove top.

add in Rice Krispies and mix thoroughly

spread the mixture into a greased pan with a greased spatula.

allow mixture to cool (about 30 minutes)

use unicorn shaped cookie cutter to cut in shapes

apply vanilla icing to top of treat

use black writing gel for muzzle

sprinkle rainbow sprinkles along the side for the unicorn mane

sprinkle a bit of gold for the unicorn horn

add a candy eye

serve & enjoy!
For more delicious Rice Krispie Treats