How to Make Rice Crispy Treats may earn compensation from purchases made after clicking links on this page. Learn more Here.
These adorable turkey rice krispie treats will make the cutest dessert for your next Thanksgiving or Fall holiday get together. They are easy to make taste delicious too.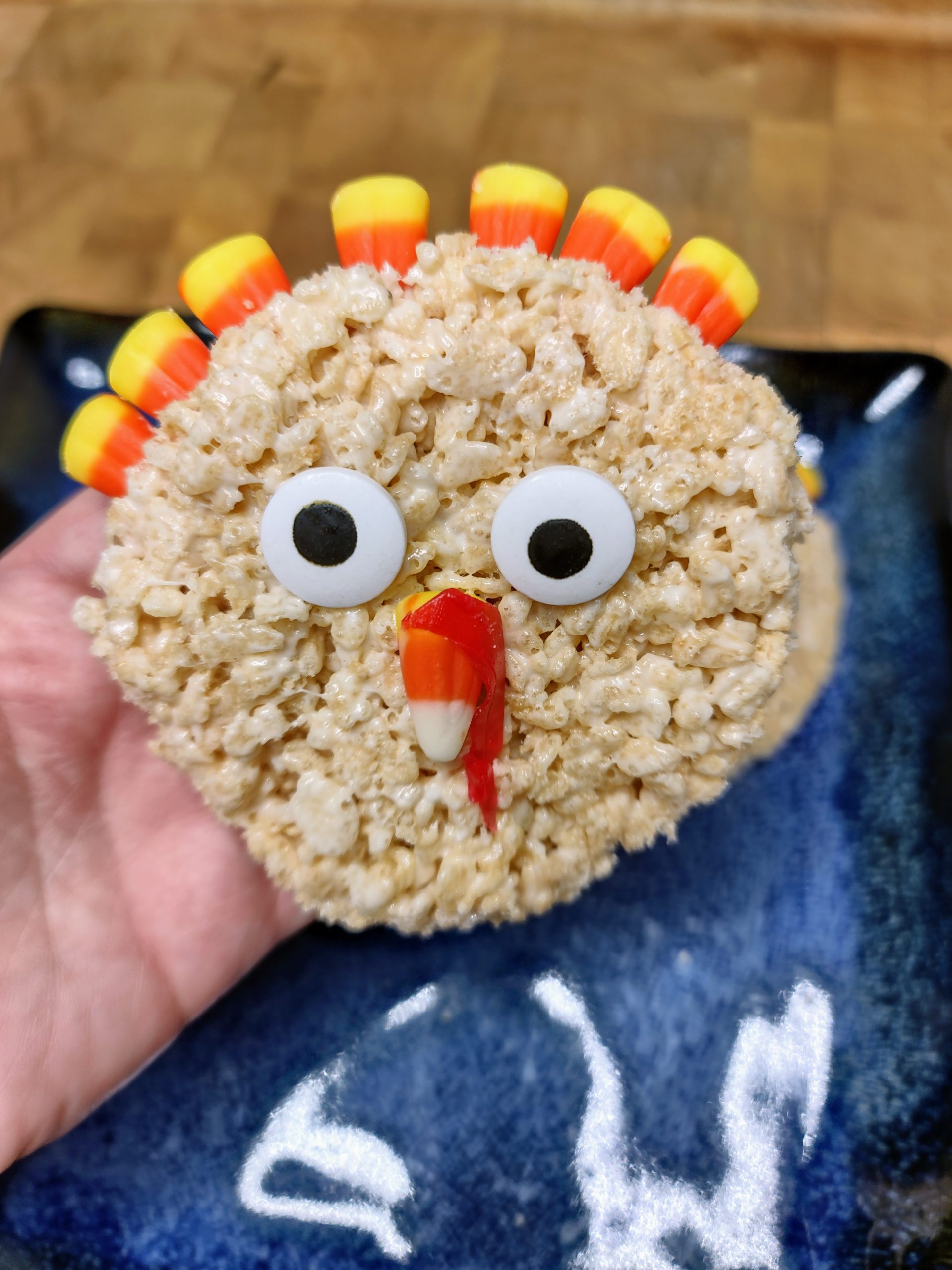 What are Turkey Rice Krispie Treats?
Turkey rice krispie treats are traditional rice krispie treats (a combination of butter, marshmallows and rice krispie cereal) cut into circles and then decorated to look like a turkey. These no bake treats are fun to make and take only about 20 minutes including decorating time.
You can even make a whole themed dessert table by adding in turkey leg rice krispie treats and pumpkin pie rice krispie treats.
Variations
These treats are super cute as is, however, you can feel free to decorate them in various different ways. Here are just a few ideas to mix it up:
Make your turkeys brown: use brown food coloring, cocoa pebbles or cocoa Krispies in order to make the base of your turkey a brown color instead of beige.
Use a different shape: for these instructions we've made our turkey faces round. However, you could certainly make your turkeys square or rectangles as well.
Use different decorations: you can certainly mix up the decorations that you use to make your turkey spaces. You could use a peanut butter cup behind the eyes. You could draw the eyes on with decorating gel. You could use different types of candy for the beak and the waddles.
How to Make these treats
These turkey Rice Krispie treats are fairly easy to make. They do take a little bit longer than original Rice Krispies simply because you need some extra time to spend decorating them.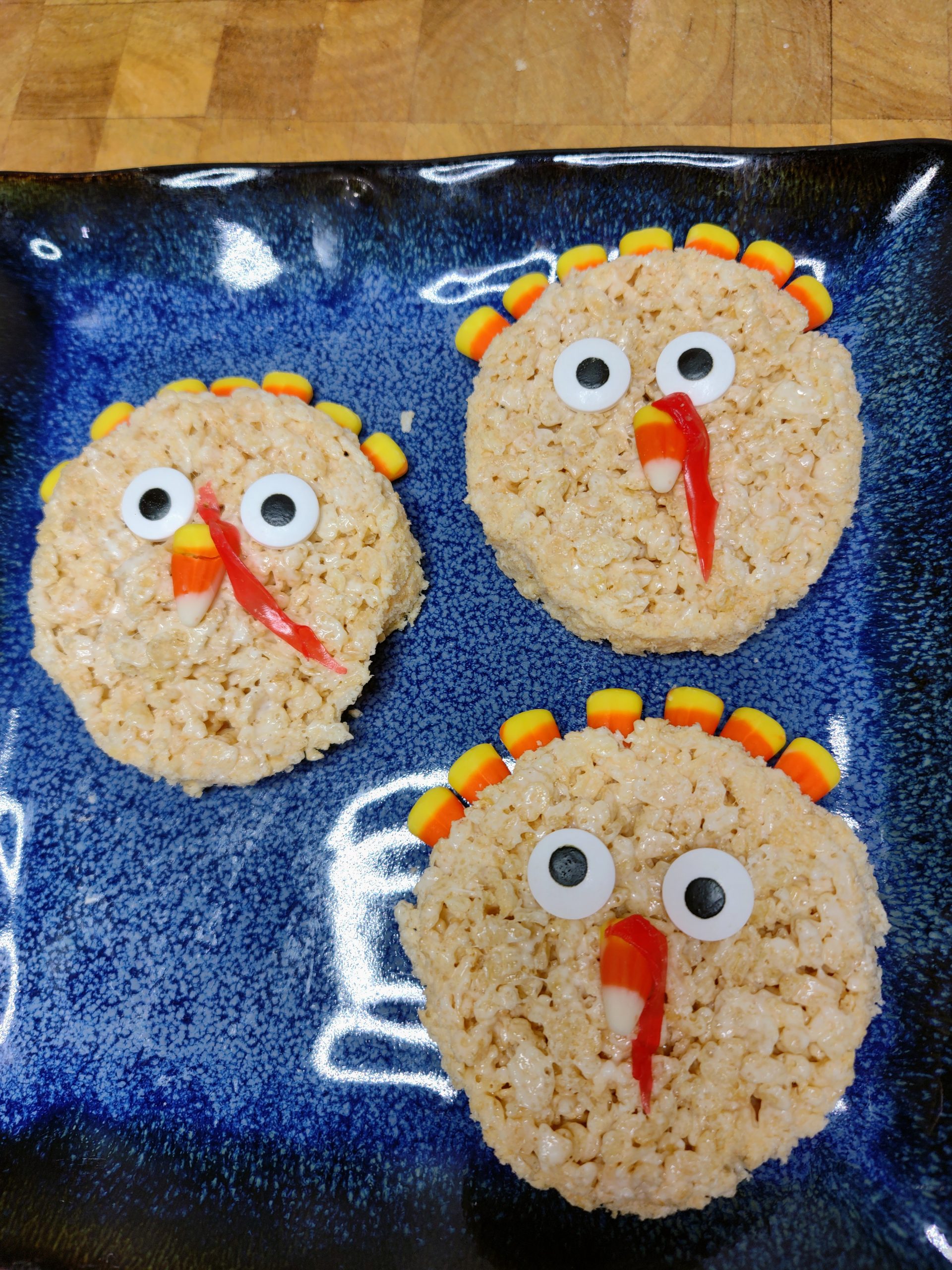 Supplies
large stock pot or Microwave Safe Bowl
Measuring Cup
Round/Circle Cookie Cutter
Ingredients
Instructions
Step One
The first thing you have to do when you're making any Rice Krispie treats is to melt together your butter and your marshmallows. You have two options to do this step, you can use the microwave or you can use your stove top.
In the microwave:
To melt your marshmallows and butter together in the microwave the first thing you want to do is take your 4 tablespoons of butter and 16 oz of marshmallows and toss them into a microwave safe dish.
next, toss your bowl full of butter and marshmallows into your microwave and heat for 30 to 60 seconds.
once your time is up, remove your bowl from the microwave and stir the butter in marshmallows together well.
pop the bowl back into the microwave at 30 second increments stirring well in between until your butter and marshmallows are thoroughly melted and mixed together.
On the stove top:
To melt your marshmallow and butter together on the stove does take considerably longer than using the microwave. However, it allows you more control over the amount and length of heat that you apply which can lead to a better texture for your treats.
First, start by putting four tablespoons of butter into a pot or pan. And place it on low or medium low heat on the stove top.
Heat your butter while stirring regularly until it is almost completely melted.
Once butter is almost completely melted, toss in your 16 oz of marshmallows keep the heat at the same (low to medium low).
Make sure to stir often while you're marshmallows are melting.
Once marshmallows are almost completely melted, remove them from the heat and continue stirring until they finish melting and mixing thoroughly with your melted butter.
Step Two
Now that you have melted marshmallows and butter, slowly pour in six cups of rice crispy cereal. You want to ensure that you fold the cereal in with marshmallows and butter without crushing it together.
Step Three
Once you have incorporated your Rice Krispie cereal in with your marshmallows and butter you now need to spread your mixture into your baking pan. First go ahead and grease your pan and spatula well.
Then, use your spatula to transfer your marshmallow and cereal mixture into your pan. Press the mixture lightly into the pan so that it is the same thickness across the pan.
Step Four
Now you need to allow your treats to cool. This typically takes around 30 minutes.
Step Five
Once your treats are cool you can grease your round cookie cutter and use it to cut your treats into circles.
Step six
Now it's time to decorate. Take around 6 to 8 candy corns and press them into the top of the circle to represent your turkey feathers.
Grab two candy eyeballs per turkey and place them in the middle of your circles.
Finally we need to create the beak and waddle for the turkey. Take a candy corn and place it just below and in the middle of your two candy eyeballs. And tear a small strip of a red fruit roll-up and wrap that to the side of the candy corn.
Pro Tips
Don't overheat: overheated marshmallows become stiff and a little hard once they have cooled. To make sure that you have soft and chewy treats use only the amount of heat for the length of time it takes to just melt the marshmallows and not more.
Don't crush your cereal: both when you're folding your cereal into your marshmallows as well as when you're pressing it into your pan Make sure not to crush the cereal or compact your treats too much. You want to have chewy soft treats at the end and if you crush or compact the cereal too much they can become a little hard and brittle.
Storage: your treats should stay good for several days as long as they are kept in an airtight container. They should be kept at room temperature for the best texture and consistency. If you're going to be keeping them past this time make sure to wrap them and put them in freezer bags so that you can store them in the freezer indefinitely. I don't
Print Recipe
Turkey Rice Krispie Treat
Equipment
Spatula

9x13 Pan

large stock pot

Large mixing bowl

measuring cups

Circle cookie cutter
Ingredients
16

oz

Marshmallows

4

tbs

Salted Butter

6

cups

Rice Krispies cereal

Candy Corn

Candy Eyeballs

Fruit Rollups
Instructions
Get together all of your supplies and ingredients.

Pre-grease your cookie cutter, pan and spatula using either butter or a non-stick cooking spray.

Melt together your marshmallows and butter either in the microwave (detailed instructions below) or on the stovetop (detailed instructions in post above).

Put 4 tbs of butter and 16 oz of marshmallows together in a microwave safe dish.

Heat them for 30 - 60 seconds in the microwave.

Stir butter and marshmallows together after heating.

Heat again for 30 seconds, and stir together again.

Keep heating and stirring until marshmallows are fully melted.

Slowly add 6 cups of rice krispie cereal into melted marshmallows and butter. Fold it inn well.

Use spatula to move marshmallow and cereal mixture into your pan. Press it in lightly so it is the same thickness all over.

Allow pan of treats to cool for around 30 minutes.

Use your round cookie cutter to cut treats into circles.

Stick candy corns point first into top of circle for the turkey feathers.

Put two candy eyeballs on the circle.

Add a candy corn flat on the center of the circle in the middle just below the eyeballs.

Tear a small strip from the fruit roll up and add that to the side of the candy corn nose.