How to Make Rice Crispy Treats may earn compensation from purchases made after clicking links on this page. Learn more Here.
Who doesn't love the Flintstones? We know we do! And that's why we decided to make cereal bars out of one of our favorite cereals, Cocoa Pebbles. Find out exactly how to make Cocoa Pebbles Cereal Bars today.
How to Make Cocoa Pebbles Cereal Bars
Cocoa Pebbles Treats are the perfect 3 ingredient, no bake treat. They are full of sweet, chocolate and marshmallow flavor. They can also be whipped up in just around 10 or 15 minutes.
These treats work well for sweet snacks, desserts or even as a party food. Since you can easily adjust the size of your batch, they work well for any size gathering.
If you like cereal bars you may also want to check out Fruity Pebbles, Fruit Loops, Trix, Cinnamon Toast Crunch to see the vast variety of different types and flavors of cereal bars you can make.
Supplies
Ingredients
Instructions
If you are familiar with the original rice krispie treat recipe, then this should be extra easy for you. It's all the same steps, but just use cocoa pebbles instead of rice krispies.
Step One
We start out by melting butter in a large stock pot at medium heat on your stovetop. Once the butter has just about completely melted add a full bag of Jet Puff Marshmallows. You can use a spatula to stir the marshmallows and butter together until completely melted.
Once everything is melted, you'll want to cut your heat down off. If the marshmallows get too hot too quickly, they become brittle and stiff, and not very easy to mix.
Step Two
Now that you have your melted marshmallows, it's time to add in your cereal. Take 6 measured cups of Cocoa Pebbles and add them directly into the melted marshmallows. Again, using your spatula, stir until the cereal and marshmallows are mixed completely together.
Step Three
Take out a 9 x 13 baking pan and spray the inside walls and bottom with canola oil or any flavorless baking spray you choose. The baking spray keeps the sticky marshmallows from sticking to the bottom of the pan later, when you're ready to cut them.
Scoop all of your cereal into the bottom of the pan and flatten it out with your spatula. Do this until the cereal mix is completely flat and level in the bottom of the pan.
Set your pan to the side and let cool for about 30 minutes or so.
Step Four
It's time to cut your Cocoa Pebbles Cereal Bars.
Take out a sharp knife and carefully cut your treats into 2 x 2 inch squares. A 9 x 13 pan should produce about 15 or 16 cereal bars, depending on how accurate your measurements are.
And that's it!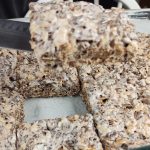 Print Recipe
Cocoa Pebbles Cereal Bars
Equipment
9x13 Pan

Spatula

large stock pot
Ingredients
6

Cups

Cocoa Pebbles cereal

3

tablespoon

Salted Butter

16

oz

Marshmallows
Instructions
Melt butter and marshmallows together medium heat in a pan on the stove top.

Once melted and mixed, take off heat and add in the Cocoa Pebbles cereal.

Thoroughly mix marshmallows and cereal together.

Grease spatula and pan and spread your mixture evenly into the pan.

Let bars sit for 20 - 40 minutes to cool, then enjoy.