Whether you're looking for an easy, no bake treat or you need a novel dessert to bring to a party, these Fruity Pebble Rice Krispie Treats are a perfect fit!
Fruity Pebble Rice Krispie Treats are made with just three simple ingredients and only take about 10 minutes to prepare. Plus they're so colorful and pretty!
Fruity Pebble Rice Krispie Treats
So, I thought about trying these out after making some super yummy Lucky Charms Bars. I realized I could probably substitute most any kind of cereal in place of Rice Krispies in the regular rice krispie treat recipe. And it turns out you totally can!
If you love Fruity Pebbles, you'll love these. I'm a big fan of Fruity Pebbles, but don't eat them too terribly often because I try my best to be responsible with my breakfast foods. I do splurge sometimes though. You can even make fruity pebble cookies!
However, these Fruity Pebble Rice Krispie Treats mean I can have the flavor of Fruity Pebbles for snack or dessert anytime. Which is super awesome, in my opinion!
Or you can splurge and have them with (or for) breakfast once in a while. Yum!!
So, if you know how to make rice Krispie Treats, then you'll find these Fruity Pebble bars super easy too – just switch out the cereal used.
These are so fun and colorful! If you love the colors, you may also want to check out these multi-colored layered Peeps Rice Krispie Treats.
How to Make Fruity Pebble Cereal Bars
Before you get started, gather your ingredients which are:
Fruity Pebbles Cereal
Marshmallows. We like to use Kraft, but other brands work also.
Salted Butter
(optional) butter spray
Pro tip: We have used a variety of different marshmallows over the years. They all work fine. However, different brands have different consistencies. Kraft tend to be a little less pliable and sticky, which makes them easier to work with.
But as long as your marshmallows are fresh and not stale (don't ask how we know), they should work just fine.
Then, you'll want to gather your supplies, which are:
9×13 Pan
Spatula
Microwave safe dish or pot
Next, you'll want to go ahead and pre-grease your pan and also your spatula. If you don't pre-grease these before getting started, it can get a little hectic trying to get them greased before your marshmallow batter starts to harden.
We like to use a non-stick butter spray like Pam for greasing the pan and the spatula. However, you can certainly just use a stick of butter to rub on both to grease them.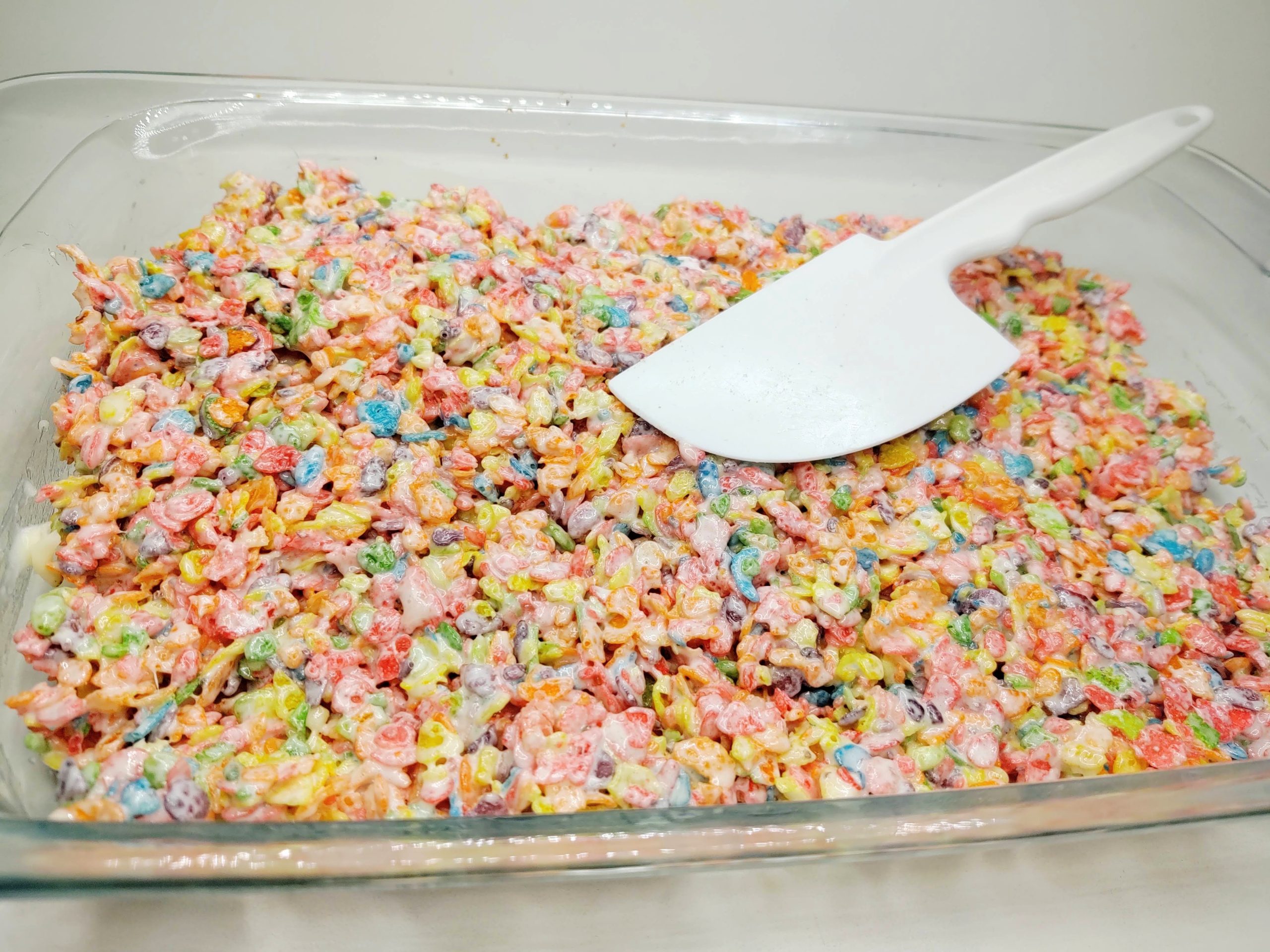 Step one
Melt and mix together your butter and marshmallows. You can use the stove top, or the microwave.
On the stove top, make sure to use low to medium heat. First begin by melting your butter. Once your butter has melted, add in your marshmallows and let them melt as well. Make sure you stir occasionally so that they melt evenly.
In the microwave, you can melt both together at once.
I like to microwave in one minute increments, checking and stirring then heating another 30-60 seconds until completely melted together.
Pro tip: don't overheat your marshmallows, they'll get super hard and stiff. It is essential that you heat the marshmallows SLOWLY with stirring in between.
Pro tip #2: The marshmallows will puff up A LOT. Especially if you are using the microwave option. This is normal. Make sure to stir them up and press them down so that you can assess how melted they actually are.
STEP TWO
Dump your Fruity Pebbles into the bowl with the butter and marshmallow mix. Stir in your Fruity Pebbles cereal.
Make sure to stir thoroughly so that the cereal is evenly coated in the butter and marshmallow mixture.
However, as you are stirring, you also want to make sure that you are not crushing the fruity pebbles cereal. It should just be folded into the marshmallows. Otherwise you will get compact, hard bars.
STEP THREE
Next, you'll want to evenly spread your cereal and marshmallow mix into a pre-greased pan. For easiest spreading, use a spatula coated in non-stick cooking spray or butter.
Seriously though, when you pre-greased everything before you started, make sure that it is actually all SUPER well greased. The marshmallow and fruity pebble cereal mixture is going to be extremely sticky. It will stick to all the things.
STEP FOUR
Let your bars cool (this usually takes around 20-40 minutes) before cutting into serving sized squares. You can of course dig in right away, but the bars won't be fully set yet and will not have the best chewy texture.
Fruity Pebbles Rice Krispie Treats Storage
Storing these is super duper easy. You'll want to either keep them in an air tight container. Or, if you won't finish them within a week or so, you can freeze them for another time.
Print Recipe
Fruity Pebble Rice Krispie Treats
Equipment
9×13 Pan

Spatula

Pot or Microwave Safe Dish
Ingredients
6

Cups

Fruity Pebbles Cereal

4

tbsp

Salted Butter

10

oz

Marshmallows
Instructions
Pre-grease your pan and spatula with with a pad of butter or with non-stick cooking spray. *note: grease them liberally, or you will have marshmallows stuck everywhere.

Combine and Melt Marshmallows and Butter together. This can be done in small increments in the microwave or on low heat on the stovetop.

Make sure to stir throughout the melting time. If using the microwave, use 30 – 60 seconds at a time and stir in between heatings.

Add in the Fruity Pebbles cereal and then stir well to combine all ingredients.

Spread your mixture into a greased pan with a greased spatula. Making sure not to pack it down too much.

Let your treats cool for about 30 minutes, cut and then eat.