How to Make Rice Crispy Treats may earn compensation from purchases made after clicking links on this page. Learn more Here.
Fruit Loop Cereal Bars are seriously one of the most delicious things you will ever eat in your life! If they weren't already a breakfast cereal I would assume they were made exclusively as a dessert snack.
Fruit Loops Cereal Bars
Fruit Loops Cereal treats are a fruity, sweet 3 ingredient no bake dessert. You can get a batch of these mixed up in as little as 15 minutes. They add a delicious fruit flavor to an already great classic. In fact, Fruit Loops can make any number of interesting desserts like these Fruit Loop Sugar Cookies.
These cereal bars are great for a last minute snack for an unexpected party or if you just want to have a lazy weekend. They take the same amount of time to make as original and just as tasty.
How to Make Froot Loops Cereal Bars
Overall, froot loops cereal bars are pretty easy to make. In fact much like other cereal bar treats (for example: Lucky Charms Bars, Frosted Flake Cereal Bars and Fruity Pebble Rice Krispie Treats), you simply use the original rice krispie treat recipe and substitute in Froot Loops Cereal.
Before you get things going, you'll need to make sure you have the right ingredients and supplies to make these.
Supplies
Ingredients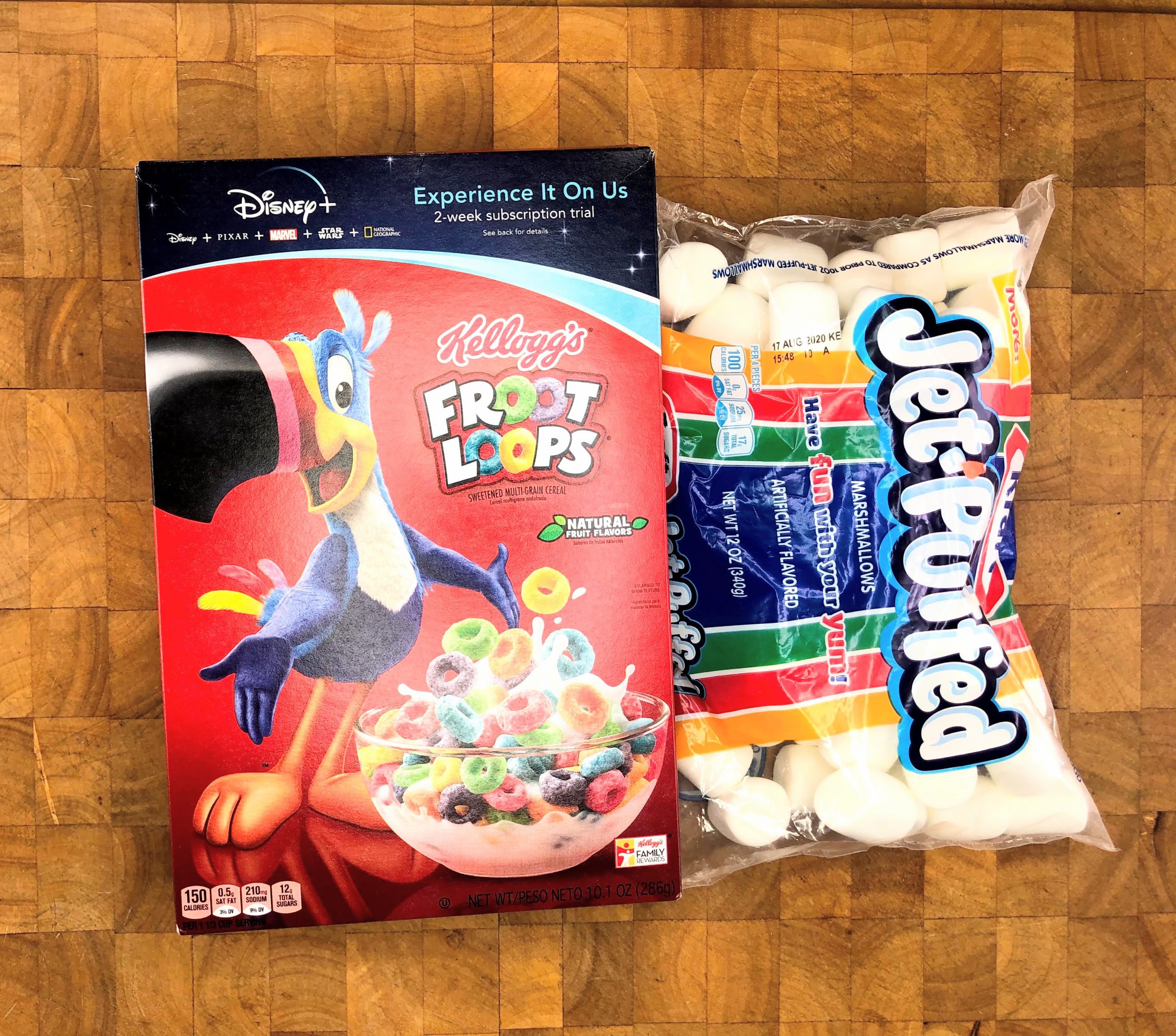 Instructions
Make sure to pre-grease both your 9x13 pan as well as your spatula before you get started. This marshmallow and Froot Loop Cereal mixture tends to be EXTRA sticky. The cereal pieces are a lot larger than rice krispies or fruity pebbles and so the marshmallow tends to be in bigger sections and chunks as it coats the cereal.
To pre-grease your supplies, you can either use non-stick cooking spray - that is our preference, although it does have a different flavor than regular butter. Or, you can simply use a pad of butter and rub it around your pan and spatula.
Step One
The first step in the process is to melt your butter and marshmallows together.
Stovetop Method: This method takes about 10 minutes.
Take 4 tablespoons of butter and place them in your pot. Place your pot on your stove top and set the heat for low or medium low.
You can use your spatula to move the butter around the pan a little so that it melts more evenly.
Once your butter has melted, grab your bag of marshmallows and dump the whole thing into the pot.
Use your spatula to turn the marshmallows over to get coated in the butter.
Continue stirring until the marshmallows have completely melted and you have a nice gooey butter/marshmallow mix.
Microwave Method: If you want to speed up the process a little you can also melt you butter and marshmallows at the same time in the microwave.
To do this, start with 60 seconds.
Once you've heated for a minute, stir well.
Then pop back in the microwave at 30 - 60 second increments until it is all thoroughly melted together.
Tip: Don't overheat the marshmallows as they will stiffen and become hard to mix later. They will puff up when heating in the microwave, which is normal. Just stir and push them down and keep heating.
Step Two
Remove your marshmallows from the stove top and get your Fruit Loops ready. Pour 6 cups of cereal into the marshmallows. You can stir while pouring to get a thorough mix. It can help to coat your spatula in butter first to keep everything from sticking too much.
Continue stirring until your Fruit Loops and marshmallows are completely mixed together.
Tip: The key here is to have your spatula VERY well greased and also to try and mix things together fairly quickly so that the marshmallows do not cool and stiffen up.
Step Three
Once the marshmallows and Froot Loops cereal are mixed, they become much stickier and harder to work with.
Using your spatula (sometimes we use an additional spatula or large spoon), start scooping your cereal mix into the pre-greased pan. Once everything is moved into the pan, pat it down with your spatula until you have an even flat surface and the entire pan is full.
Tip: Make sure not to push things too hard, or you will crush the cereal pieces and make the treats too compact.
Step Four
Now, leave your treats to sit for a while. You can also stick them in the fridge for a few minutes to speed up the process (or the freezer if you're impatient like me). If you don't allow them time to cool, they are difficult to cut and make a big mess.
Once your treats have cooled down, take a sharp knife and cute into even squares. You should get about 16 squares from a 9x13 brownie pan.
Serve and enjoy!
How to store treats
If you don't gobble these all up in one day, you'll want to store them for later.
Simply place them into an air tight container.
They should stay good for about 5 days.
Room temperature is the best to keep their chewy texture. Fridge storage is OK, but will make them a bit hard.
You can also freeze your treats for later. Simply wrap them, pop them in a freezer bag and then put them in the freezer.
Print Recipe
Fruit Loops Cereal Bars
Equipment
Spatula

9x13 brownie pan

Measuring Cup

large stock pot
Ingredients
6

cups

Fruit Loops

4

tablespoons

Butter

1

bag

Marshmallows
Instructions
Add butter to large stock pot on stove top

Using medium heat, melt butter

Once butter is melted, add bag of marshmallows

Stir marshmallows until completely melted

Remove marshmallow/butter mixture from heat

Stir until cereal and marshmallow/butter are thoroughly mixed

Pour mixture into 9x13 brownie pan

Using a spatula, pat down mixture until it is evenly spread throughout the pan