How to Make Rice Crispy Treats may earn compensation from purchases made after clicking links on this page. Learn more Here.
I have always loved dinosaurs. Unconditionally loved them. Like, I think the dinosaurs were the good guys in Jurassic Park. So, naturally, when I discovered we had dinosaur shaped cookie cutters, I immediately jumped at the idea of making dinosaur Rice Krispie Treats.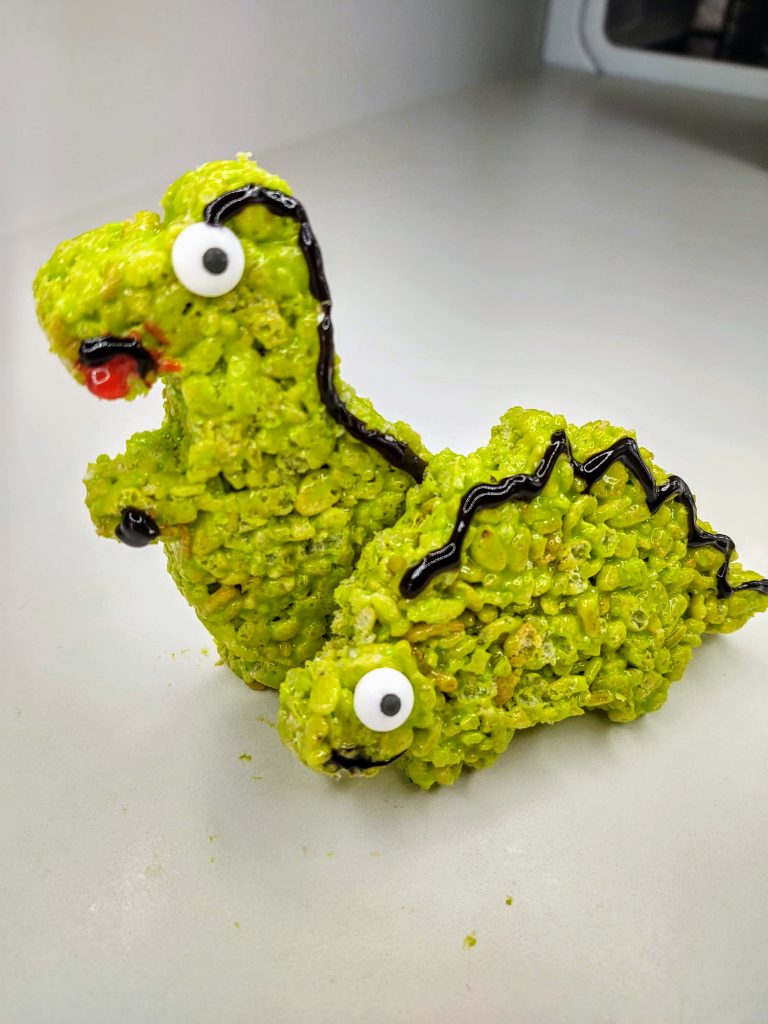 How to make dinosaur Rice Krispie Treats
Making dinosaur Rice Krispie Treats is not difficult and it is a fun creative project. You basically start with the original Rice Krispie Treat recipe and add in food coloring. If you've made our Baby Shower Rice Krispie Treats or Watermelon Rice Krispie Treats, you are familiar with using food coloring in your dessert.
The only other major difference is you using a cookie cutter, like in the Frozen Theme Rice Krispie Treats, and decorating them at the end, like our Unicorn Rice Krispie Treats. But this is all fairly easy and a lot of fun.
For recipes like this, we usually make a half batch in an 8 x 8 pan instead of the 9 x 13 pan. If you would rather make a regular sized batch, just double the ingredients listed below.
Step One
As per usual, get out your large stock pot and melt 2 tablespoons of butter on medium heat. Once your butter has completely melted, pour in half of a 16 oz bag of Jet Puff Marshmallows. Stir until your marshmallows have completely melted and you have a single, big, melted mess.
Now it's time to add in your food coloring. We always tend to add extra just to make sure our treats are as bright as possible. But to start out, add some and stir, repeating that process until your marshmallows look like something you'd see on Nickelodeon.
Reduce your heat to low or medium-low so your marshmallows won't overcook and become too stiff to work with.
Step Two
Take out 3 measured cups of Rice Krispies cereal and pour them directly into the green mess. Use a spatula (you definitely don't want to use your hands for this) to mix the cereal thoroughly.
If the Rice Krispies dull the color, you can add more food coloring until you have your desired shade of green.
Step Three
Get out your 8 x 8 baking pan and coat the sides and bottom with Canola oil or whichever your preferred baking spray may be.
Scoop the treat mix into the pan and press down into the bottom until it is completely flat. Set to the side and allow to cool. While waiting, get out your cookie cutters and writing gels.
Step Four
Once your treat mix is cool, you can position your cookie cutters to see the most efficient way you can cut with them. Part of the reason we make smaller batches is the cookie cutters are not as thick as a full batch and that makes it more difficult to cut cleanly.
When you have your cookie cutter in the right spots, simply press down with even pressure until your treat is completely separated from the rest of the mix. Continue until you have used all of the mix. One nice thing about Rice Krispie Treats as opposed to cookies, is you can kind of squish the excess treat back together and cut that into a dinosaur shape as well.
Step Five
With your dinosaur shapes cut out, it's time to start decorating. This part is fun and creative. This is how we did it, but you can of course add your own touches to make it your own. We'd love to see what you come up with.
Use your black writing gel and outline the dinosaurs. Place a small dot where the eye should be and place a candy eye. The gel dot will hold the eye in place.
We also like to put a little bit of red writing gel around the T-Rex mouth (you know, since he's the king of the dinosaurs, obviously).
We'd love to see what your ideas look like. Let us know how it goes in the comments below.
Print Recipe
Dinosaur Rice Krispie Treats
Equipment
8x8 Pan

Spatula

Large mixing bowl

Dinosaur Cookie Cutters
Ingredients
3

Cups

Rice Krispies

2

tablespoon

Salted Butter

8

oz

Marshmallows

1

Green Food Coloring

2

candy eyes

1

black writing gel

1

red writing gel

optional
Instructions
add the butter & marshmallows in a bowl and melt them together. This can be done in the microwave or on the stove top.

add green food coloring and stir. add as needed until you reach desired shade

add in Rice Krispies and mix thoroughly. add more food coloring if cereal is not green enough.

spread the mixture into a greased pan with a greased spatula.

allow mixture to cool (about 30 minutes)

use dinosaur shaped cookie cutters to cut in shapes

outline each dinosaur with black writing gel

add small dot to hold candy eye in place

(optional) put red writing gel around T-Rex mouth

serve & enjoy!