If you're not sure what kind of dish to bring to your next baby shower, we have a great idea for you. Learn how to make baby shower Rice Krispie Treats and be the hit of the party (other than the baby and expectant parents, of course).
How to make baby shower Rice Krispie Treats
Have you been invited to a baby shower and you have no idea what kind of snack or food to bring? We have the perfect solution for you; baby shower Rice Krispie Treats!
These treats are just as easy as Original Rice Krispie Treats and you can even make them quickly using our Microwave Rice Krispie Treats method.
All you need now is a little food coloring, a little baby info, and an upcoming baby shower and you're set (or you could just make them for funsies)!
Step One
First things first, you will need to melt your butter in a large stock pot. We usually set our stove top to medium heat while it melts. You can use a spatula to push the butter around the bottom of the pan to help it melt faster.
Once your butter has melted, add in a 16 oz bag of Jet Puff marshmallows. The marshmallows should melt pretty quickly. Stir your marshmallows around in the butter until everything is a slightly yellow tinted sticky mess (that's a technical term, btw).
Once you have your marshmallow base ready, add in some food coloring. If you've made our St Patty's Day Green Rice Krispie Treats, Peeps Rice Krispie Treats, Dinosaur Rice Krispie Treats, or Watermelon Rice Krispie Treats this will be familiar territory for you.
You will need to figure out what color Rice Krispie Treats you will be making. If you're unsure, or the parents are keeping it a secret, you can make these in both pink and blue. Or, better yet, make them in any gender neutral color you like.
Once you've added in the food coloring, stir and add food coloring until your marshmallow base is the desired shade.
Step Two
When you have the color marshmallows you want, add in 6 measured cups of Rice Krispies. You will want to reduce your heat to low or medium-low now. Leaving the heat on will make it easier to mix. Just be sure not to overheat the marshmallows. They can get hard and brittle if heated for too long.
Use a spatula to mix everything together. You may need to add in more food coloring if you notice the Rice Krispies are not changing color.
Step Three
Take out your 9 x 13 baking pan and spray the bottom and sides with Canola oil. You can use any kind of flavorless cooking spray you like, we just prefer Canola.
Scoop your Rice Krispie Treat mix into the baking pan. Use your spatula again to press the batter down until it fills the entire bottom of the pan.
You can now place them to the side for a little while to cool or place them in the fridge or freezer (depending on your own personal threshold of patience). You want them to cool down quite a bit for your decorative icing.
Step Four
Once your Rice Krispie Treats have cooled sufficiently get out your cream cheese icing. Really, any icing will do, we just really like cream cheese icing.
You can either ice the entire top just like a cake or you can use a sharp knife to cut them into 2 inch squares and ice them individually. It really just depends on how much time you want to spend.
Once you have them cut and iced, sprinkle a whole canister of sprinkles on top. Maybe not an entire canister but can you ever really have too many sprinkles?
Bring them to the baby shower and watch everyone enjoy (and you enjoy them too)!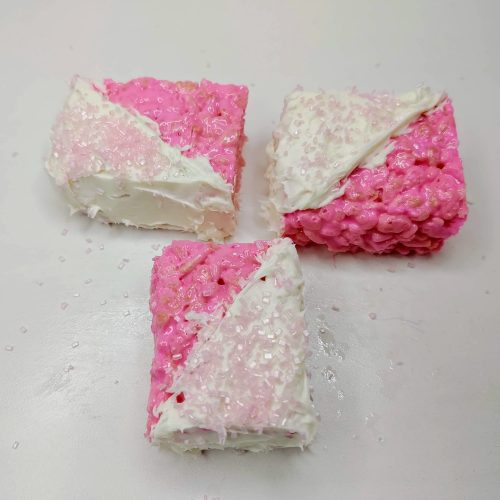 Print Recipe
Baby Shower Rice Krispie Treats
Equipment
9×13 Pan

Spatula

large stock pot
Ingredients
6

Cups

Rice Krispies

3

Tbsp

Salted Butter

16

oz

Marshmallows

1

Tube

Pink and/or Blue Food Coloring

1

Jar

Cream Cheese Icing

1

Container

Pink and/or Blue Sprinkles
Instructions
Add the butter & marshmallows in a bowl and melt them together. This can be done in the microwave or on the stove top.

Add in food coloring and stir. Add food coloring until the desired shade is reached

add in Rice Krispies and mix thoroughly

Spread the mixture into a greased pan with a greased spatula.

Allow mixture to cool (about 30 minutes), cut into squares

spread icing on each square in either a diagonal pattern or completely
For more delicious Rice Krispie Treats