How to Make Rice Crispy Treats may earn compensation from purchases made after clicking links on this page. Learn more Here.
If you're looking for some of the best, most yummy and creative Christmas Rice Krispie Treats you've come to the right place!
Here you will find almost 20 awesome Christmas theme inspired Rice Krispie Treat recipes you can make for your Christmas parties, fun gifts or just for snacking around the house.
Christmas Rice Krispie Treats
Rice Krispie Treats are the perfect snack or gift during the holiday season. They are fast and easy to make which is perfect during this hectic time of the year.
One really awesome thing about Rice Krispie Treats is that there are so many variations possible.
You'll of course need to know how to make a basic Rice Krispie Treat to start out. And it won't hurt to know how to make red or green Rice Krispie Treats either.
Once you have that down, you'll be ready to jump in and get creative with some of these fun, Christmas Rice Krispie Treats recipes.
15+ Awesome Christmas Rice Krispies Treats to Try
Is there anything more Christmas than Santa? Try out these adorable Santa Rice Krispie Treats and make your season bright!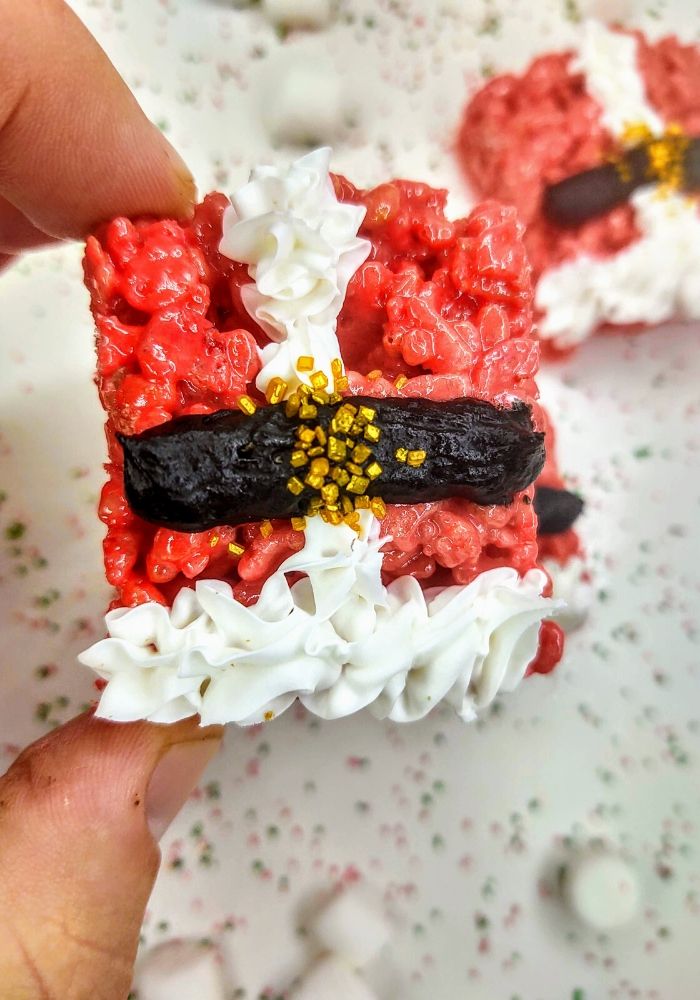 And, while you're on the Santa theme, why not make his hat to go along with it? Here is our version of the Santa Hat Rice Krispie Treats.
These cute Gingerbread House Rice Krispie Treats are perfect for a Christmas party.
Here's another easy Gingerbread Rice Krispie Treat idea.
Decorated Rice Krispie Treats are such a fun and easy way to celebrate holidays. Here are three fun ideas to decorate treats for Christmas that are perfect for classroom parties and more.
Here are some Reindeer treats to try. Make a batch of these adorable Reindeer Rice Krispies Treats! They are decorated like reindeer with pretzels, candy eyes, and fun red noses – just like Rudolph!
Complete with green chocolate and a little red heart, these Grinch Rice Krispie Treats make the perfect snack to serve while watching the How the Grinch Stole Christmas.
Try out these Disney movie inspired treats. These Nutcracker and the Four Realms Rice Krispie Treats are super cute and fun!
No child will mind getting these Lumps of Coal Rice Krispie Treats! Super fun treat to make and to receive for Christmas!
You can't have lumps of coal without having some Christmas Stockings. Christmas Stocking Rice Krispie Treats are so fun and festive!
These 3D snowman rice krispie treats are a fun decorated treat for the holiday season that is perfect for parties or a kids craft.
These winter rice krispie treats are perfect for the Christmas season. Make these Snow globe Rice Krispie Treats for snacking at home or holiday festivities.
Looking for a super simple and easy recipe? Try these Red and Green Rice Krispie Treats.
Ugly sweater parties are so popular for the Christmas season. Why not make these fun Rice Krispies ugly sweaters treats to serve at your next party?
Make these easy holiday wreaths using food coloring and some sprinkles. Your guests will be sure to love these Holiday Wreath Rice Krispie Treats.
In a rush this holiday season? Check out these 3 ways to turn store-bought Rice Krispie Treats into Christmas goodies.
Try these super cute red and green Rice Krispie Treat balls. They are bite sized and so festive looking!
Rice Krispie Treat Supplies
Now that you're have several super awesome Christmas inspired rice krispie treat ideas, make sure that you have everything you need to make your chosen treats.
You'll of course need your basic rice krispie treat making ingredients:
Butter
And then you'll also need to make sure that you get the extra goodies for your chosen treat variation. These are some commonly used treat supplies:
Red food coloring
Green food coloring
Green Chocolate Melts