How to Make Rice Crispy Treats may earn compensation from purchases made after clicking links on this page. Learn more Here.
Oftentimes, blue is associated with sadness. But with these Blue Rice Krispie Treats, you'll find the opposite to be true.
How to make Blue Rice Krispie Treats
Blue is one of my favorite colors, so when we had the opportunity to make Blue Rice Krispie Treats, I jumped at the chance. They're super easy to make, especially if you have any experience with our other food coloring based Rice Krispie Treats like red, yellow, green or the always fun watermelon Rice Krispie Treats.
Of course, Blue Rice Krispie Treats on their own are a whole lot of fun, but they also work as a great base for a couple of our other recipes like our Sesame Street Rice Krispie Treats and our monster Rice Krispie Treats.
Let's get started!
Step One
Set your stovetop heat to medium and put a large stock pot on your burner. Add in three tablespoons of butter and allow to heat until it's melted.
Now empty an entire 16 ounce bag of Jet Puff Marshmallows Into the stock pot of melted butter. Stir the marshmallows around until they're completely melted and you have a large mass of marshmallow buttery sweetness.
Take out your tube of blue food coloring. And squirt it liberally into the marshmallow mix. We like to use a lot of food coloring to make sure that our Blue Rice Krispie Treats are as bright as possible.
Save yourself the trouble of a whole lot of hand washing later and use a spatula to mix everything together until you have a nice rich blue colored base.
Step Two
Once everything is completely blue, reduce the heat down to low or medium low. You'll want the heat lower so you don't overcook the marshmallows because they can get too difficult to stir and work with later.
Take out six measured cups of Rice Krispies cereal and pour them into the blue mix. Again, using your spatula, stir the blue mix and cereal together until sufficiently coated.
If the Rice Krispies don't seem to be turning blue enough, you can always add in more food coloring. Sometimes the food coloring soaks into the center of the cereal and doesn't get quite bright enough the first time.
Step Three
Once you're pleased with the color of the Rice Krispies and marshmallows mixed together pull out a 9 x 13 baking pan and a can of Canola oil baking spray. You can use any kind of baking spray you like. We prefer canola oil because it's flavorless and it works really well.
Spray the bottom and inside walls of your baking Pan. Now scoop the blue mix into your baking Pan. Use your spatula to flatten the treat mix into the bottom of the pan until it is even. Once it is even set the pan to the side and allow to cool.
Step Four
Once your treats have cooled (did you put them in the freezer?), take out a sharp knife and cut into 2 inch squares. Depending on how accurate your cuts are, you should be able to get between 15 and 16 squares in a full batch.
Finally, serve and enjoy!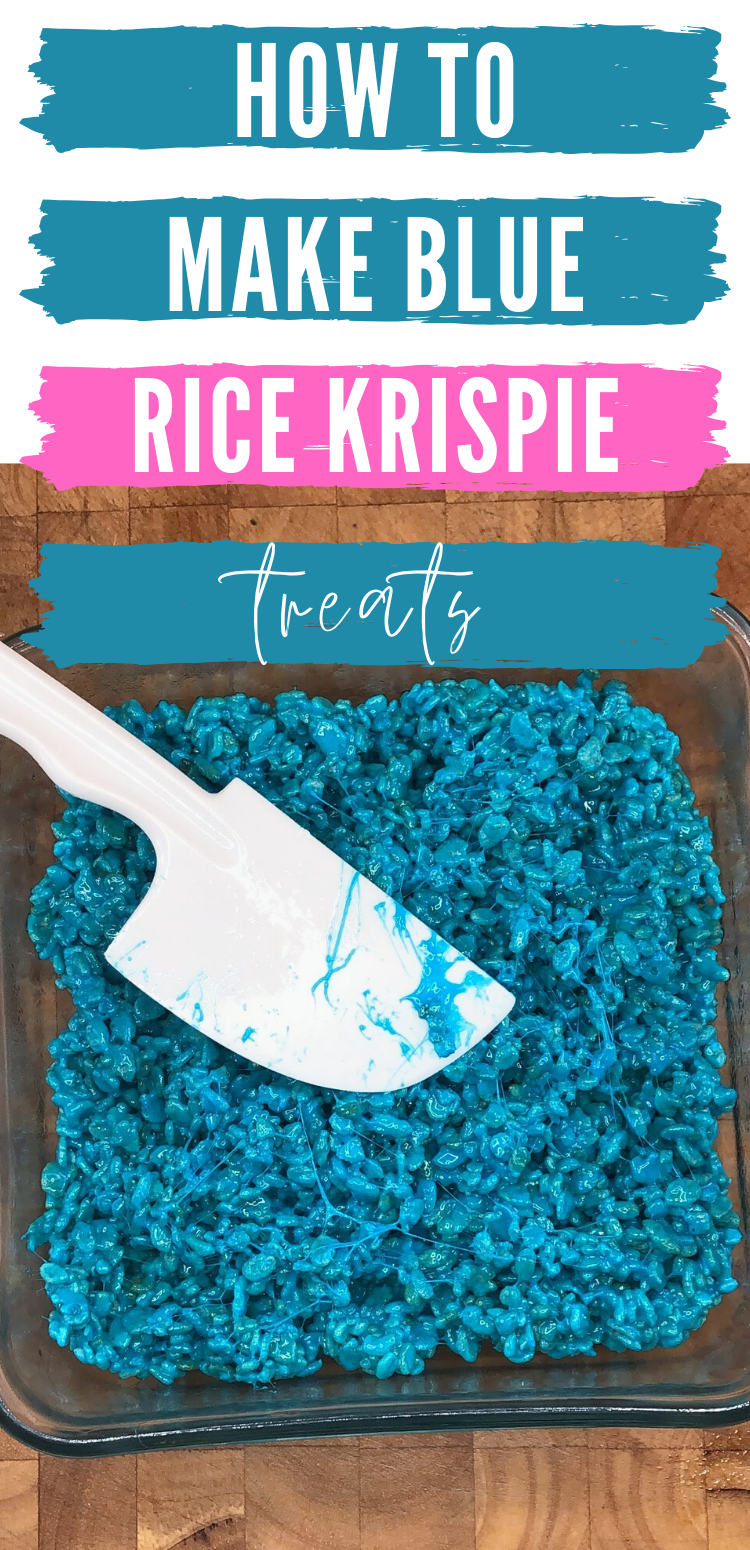 Print Recipe
Blue Rice Krispie Treats
Equipment
large stock pot

9x13 Pan

Spatula

Canola Oil Spray
Ingredients
6

cups

Rice Krispies

16

oz

Marshmallows

3

tablespoon

Salted Butter

1

tube Blue Food Coloring
Instructions
Melt butter and mix Marshmallows together. Either on medium on the stove top. Or in 30 second increments in the microwave.

Once melted, add and stir in the blue food coloring

Add and stir in Rice Krispies cereal. Make sure that mixture is evenly distributed.

Spread mixture into pan with greased spatula.

Cool treats for 30 mins, cut, and enjoy!
For more delicious Rice Krispie Treats
[pt_view id="3486d4b4hk"]