How to Make Rice Crispy Treats may earn compensation from purchases made after clicking links on this page. Learn more Here.
Sometimes people say if something is yellow, they're scared. But the only thing to be scared of with Yellow Rice Krispie Treats is that you may eat the whole batch yourself.
How to make Yellow Rice Krispie Treats
Seriously though, Yellow Rice Krispie Treats are so bright and fun and colorful, you'll wish that you had made these before now. They serve as a great base for several other Rice Krispie Treat recipes like our Sesame Street Rice Krispie Treats and monster Rice Krispie Treats.
Making them is not hard at all. You just use food coloring in addition to the Original Rice Krispie Treats recipe. If you've ever made our blue, red, green Rice Krispie Treats or the always entertaining watermelon Rice Krispie Treats, you will have an easy time making these.
Step One
Place a large stock pot on your stove top. Melt 3 tablespoons of butter in the pot at medium heat.
Once your butter is completely, or at least mostly melted, add in a 16 ounce bag of Jet Puff Marshmallows. Stir them together with the butter until everything is one big, buttery mess.
Get out your tube of yellow food coloring and add it into the marshmallow mix. We like to use a whole lot of food coloring just to make sure that we get the right color. The recipe is supposed to be bright and fun, so we figured we can't use too much.
Reduce your heat to low or medium loud so that your marshmallows don't overcook. If they get too hot for too long, they become brittle and very difficult to work with while mixing.
Step Two
Now that your marshmallow base is the right color, add in 6 measured cups of Rice Krispies cereal. User spatula to stir the Rice Krispies into the marshmallow base until everything is completely coated.
Sometimes the Rice Krispies won't take the color quite as well as the marshmallow does, so you may need to add more food coloring into the Rice Krispies as you stir.
Step Three
Take out a 9 x 13 baking pan and a can of Canola oil spray. We prefer to use canola oil, but you can really use any flavorless baking spray that you prefer. Spray the bottom and inside walls of the baking pan.
Start scooping your Rice Krispie mix into the bottom of the pan. Use your spatula to flatten everything out into the bottom of the pan until it is completely even.
Set to the side and allowed to cool for about 15 to 20 minutes. You can speed the cooling process up by putting your Rice Krispie Treats in the refrigerator or even the freezer if you like.
Step Four
After your Rice Krispie Treats have cooled, take out a sharp knife and cut into 2 inch squares. You can typically get between 15 and 16 squares from a full pan of Rice Krispie Treats.
Once they're cut, put them on a plate, serve and enjoy!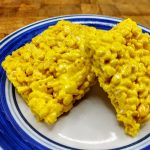 Print Recipe
Yellow Rice Krispie Treats
Equipment
large stock pot

9x13 Pan

Spatula

Canola Oil Spray
Ingredients
6

cups

Rice Krispies

10

oz

Marshmallows

4

tablespoon

Salted Butter

1

tube

Yellow Food Coloring
Instructions
Melt butter and mix Marshmallows together. Either on medium on the stove top. Or in 30 second increments in the microwave.

Once melted, add and stir in the yellow food coloring

Add and stir in Rice Krispies cereal. Make sure that mixture is evenly distributed.

Spread mixture into pan with greased spatula.

Let treats cool for around 30 mins and then cut and enjoy!
For more delicious Rice Krispie Treats
[pt_view id="3486d4b4hk"]