How to Make Rice Crispy Treats may earn compensation from purchases made after clicking links on this page. Learn more Here.
If the fall and October are your favorite times of year, then this is the recipe for you. We love all things Halloween here and there's no better dessert than Candy Corn Rice Krispie Treats.
How to Make Candy Corn Rice Krispie Treats
We all know that original homemade Rice Krispie Treats are the perfect dessert for any occasion. But if you want something that's just a little better tailored to the Halloween season, you want to try out the Candy Corn Rice Krispie Treats recipe.
The bright orange and yellow colors of candy corn will fit perfectly with all of the other Halloween themed Rice Krispie Treat recipes you can make this season. If you want an extra spooky dessert table at your next Halloween party, stick these next to Frankenstein, ghost, and even a graveyard themed dessert project.
If you've made regular Rice Krispie Treats before, you'll have no problem with this recipe. It uses all the same ingredients with the addition of candy corn.
Let's get to our candy flavor treat!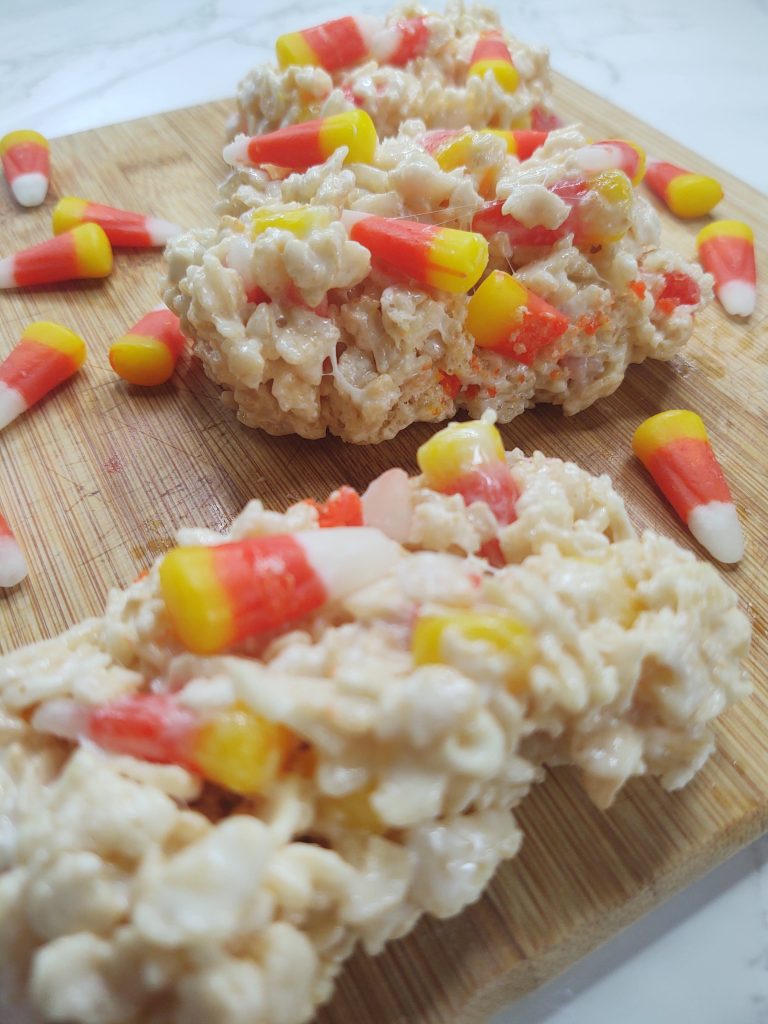 Step One
Take out a large stock pot and set your stove top heat to medium. Add your butter into the pot and allow it to start melting. While your butter is heating up, take out a 16 ounce bag of Jet Puff Marshmallows.
Once your butter is melted, or at least mostly melted, dump the whole bag of marshmallows into the pot. Use a spatula to stir the marshmallows into the melted butter until everything is melted together.
Once your marshmallows are completely melted, reduce your heat to low. If marshmallows get too hot for too long, they become brittle and stiff and really difficult to mix later on.
Step Two
Now that the marshmallows and butter are melted together get your cereal ready. Measure out 6 cups of Rice Krispies and dump them directly into the pot. Again, use your spatula to stir everything together until the Rice Krispies are thoroughly coated in marshmallow.
This is where we change things up a little bit. Take your candy corn and dump them into the pot with the Rice Krispies and marshmallows. Stir the candy corn into the treat mix until they are thoroughly mixed as well.
Step Three
Pull out a 9 x 13 baking pan. Using your favorite flavorless baking spray, we prefer canola oil, spray the inside of the pan completely. We do this so that when you're cutting later on the marshmallows did not stick to the bottom of the pan.
Now that your baking pan is ready, scoop your Candy Corn Rice Krispie Treats mix from the pot and into the bottom of the pan. Smooth everything out with your spatula until it's completely flat and even in the bottom of the pan.
Once you have finished that, set the pan to the side and allow to cool for about 30 minutes. You can speed this part up a little bit by sticking them in the fridge or the freezer if you like.
Step Four
Take your treats off the counter or from the fridge or freezer if that's where they cooled, and get ready to cut them. Use a sharp knife and carefully cut your treats into 2 x 2 inch squares. When all is said and done, you should have about 16 Candy Corn Rice Krispie Treats.
Now we get to the best part; eating them! Try to save some for the rest of the party, but most importantly, enjoy.
Print Recipe
Candy Corn Rice Krispie Treats
Equipment
9x13 Pan

Spatula

Large mixing bowl
Ingredients
6

Cups

Rice Krispies

3

tablespoon

Salted Butter

16

oz

Marshmallows

1

package

candy corn
Instructions
Add the butter & marshmallows in a bowl and melt them together. This can be done in the microwave or on the stove top.

add in Rice Krispies and mix thoroughly

Stir and add in the candy corn

Spread the mixture into a greased pan with a greased spatula.

Allow mixture to cool (about 30 minutes), cut into squares and enjoy!