How to Make Rice Crispy Treats may earn compensation from purchases made after clicking links on this page. Learn more Here.
Halloween is right around the corner! It's the perfect time to make these ghost Rice Krispie Treats.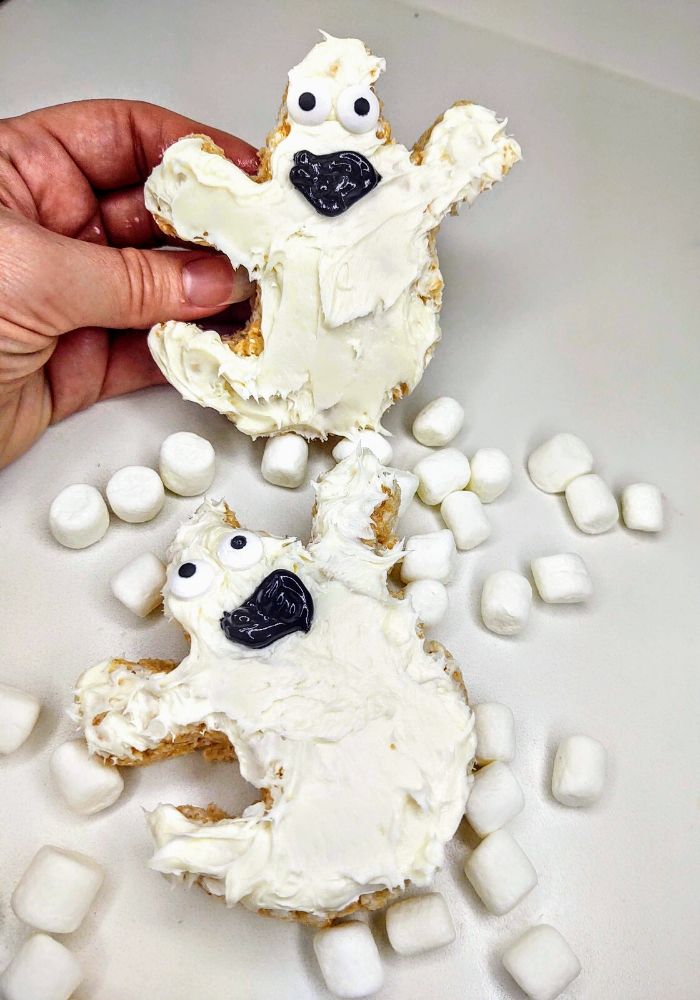 How to Make Ghost Rice Krispie Treats
Are you looking for a recipe that's easy to make and it's a fun family decorating project? Ghost Rice Krispie Treats check all of those boxes!
These cute little treats go great on your Halloween snack table. They add the perfect extra oomph if you've made our Graveyard Rice Krispie Treats. They're also great companions for any of our other Halloween themed recipes, like Frankenstein, monsters, mummy, and our eyeball Rice Krispie Treats.
Step One
Start out by melting 3 tablespoons of butter in a large stock pot. We usually set our heat to medium.
Pull out a 16 ounce bag of Jet Puff Marshmallows. Once your butter is completely melted, empty the entire bag of marshmallows into the pot. Stir the marshmallows into the butter until everything has melted together.
You can make this part go a little bit faster by following the steps in our microwave Rice Krispie Treats recipe.
Step Two
Now that your marshmallows and butter are completely melted together, you'll want to pull out your box of Rice Krispies cereal. Dump 6 measured cups of Rice Krispies into the melted marshmallows. Mix the cereal in with the marshmallows with a spatula until everything has completely been coated in March madness.
Step Three
Take out a 9 x 13 baking pan and spray the bottom and inside walls with canola oil baking spray. You can use any type of baking spray you like. We prefer canola oil because it works well and it is flavorless.
Scoop the Rice Krispie Treats mix from the large stock pot and into the bottom of the baking pan. You can also use your spatula to smash the mix into the bottom of the pan and even it out.
Set the pan to the side and allow it to cool. This should take around 30 minutes. You can speed up the process by putting the pan in the refrigerator or even the freezer.
Step Four
You will need a ghost shaped cookie cutter for this step. We personally use the one that you can find in this cookie cutter set.
Once your Rice Krispie Treats have completely cooled, pull them out and position your ghost cookie cutter on top of the Rice Krispie Treats. With firm and even pressure, push the cookie cutter into the Rice Krispie Treats.
Oftentimes, a full pan of Rice Krispie Treats are a little too thick for the cookie cutter to cleanly cut all the way through. So we take a sharp knife and carve around the edges of the cookie cutter to make sure that it cuts out completely clean.
Continue to cut your ghost shapes using this method until you have cut everything out of your Rice Krispie Treats. One nice thing about Rice Krispie Treats is they're made of marshmallows and so sticky you can just smash all of those extra pieces back together and probably get another one or two ghost shapes.
Step Five
And now the fun part; Decorating!
Now that you have all of your ghost shapes cut out, you'll want to pull out your vanilla cake frosting, your pack of candy decorative eyeballs, in black decorating gel.
First thing you'll do is take your cake frosting and ice the tops of all of your ghost shaped Rice Krispie Treats. Now take your candy decorative eyeballs and put two of them on each of the ghosts.
Finally, take the black decorating gel and give them a wide mouth. That's all it takes. Feel free to experiment and have fun making your own ghost faces.
Did you make any spooky ghosts for this project? Let us know in the comments below or take a picture and tag us on Instagram.
Print Recipe
Ghost Rice Krispie Treats
Equipment
9x13 Pan

Spatula

Large mixing bowl

Ghost Cookie Cutter
Ingredients
6

Cups

Rice Krispies

3

tablespoon

Salted Butter

16

oz

Marshmallows

1

black writing gel

vanilla cake icing

candy eyes
Instructions
add the butter & marshmallows in a bowl and melt them together. This can be done in the microwave or on the stove top.

add in Rice Krispies and mix thoroughly

spread the mixture into a greased pan with a greased spatula.

allow mixture to cool (about 30 minutes)

use ghost shaped cookie cutter to cut in shapes

apply vanilla icing to top of treat

add a candy eyes

use black writing gel for mouth

serve & enjoy!