How to Make Rice Crispy Treats may earn compensation from purchases made after clicking links on this page. Learn more Here.
This delicious light and velvety whipped cream pound cake is quite easy to make. Add to the top of this cake bright, sweet and fresh berries to give it a festive red, white and blue look and you have the perfect addition for any summertime get together.
This velvety whipping cream pound cake is moist and delicious. It is the perfect combination of sweet, moist cake with a light frosting and fresh berries to top it off.
Pound cake has a long history actually dating back to the 1700's. And, as you can imagine, that means there have been many different variations on this cake.
This particular version with whipped cream is sometimes called the Elvis Presley pound cake. This is due to the fact that it is thought to have been his personal favorite variation.
Cakes can sometimes seem intimidating to get right and decorate, but this one is truly easy to make. Just like this easy lunchbox cake, you can customize the toppings on this cake to fit whatever occasion or holiday you are serving it for.
🧁Why To Try This Recipe
Simple ingredients - all the ingredients for this yummy cake are things you probably already have in your kitchen. Nothing too fancy or expensive is needed to whip this cake up.
Perfect Texture - the whipped cream in this pound cake gives it an absolutely perfect texture. With a little brown crust on the outside and a perfectly light and velvety center, this cake melts in your mouth.
Customizable - you can easily customize the flavors in this cake to be anything you want. Simply change out the vanilla extract for other flavors like lemon, almond or even cocoa powder.
Jump to:
🥄Equipment
Mixing Bowl
Hand or stand mixer
Measuring cups
Measuring spoons
Large spoon or spatula
Loaf pan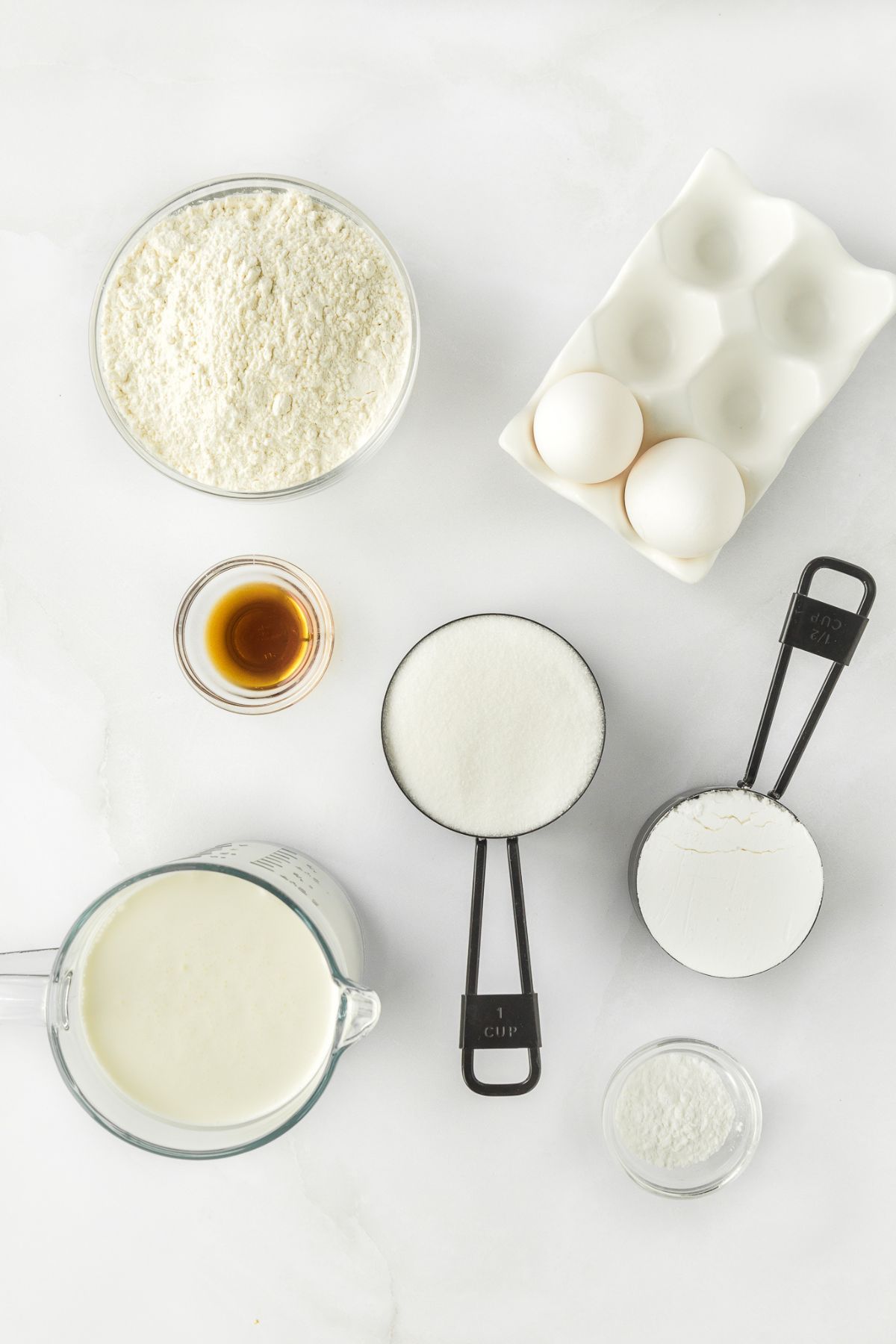 📋Ingredients
For cake:
Flour - regular baking flour or cake flour works great.
Granulated Sugar - for added sweetness.
Baking Powder - used as leavening for the cake.
Heavy Whipping Cream - replaces butter or oil to create a moist, velvety texture.
Eggs - room temperature is best.
Vanilla - to add a little vanilla flavoring.
For whipped cream frosting and toppings:
Fresh berries
Heavy whipping cream
Powdered Sugar
See recipe card for quantities.
📖Substitutions & Variations
Here are few ways you can create flavor variations as well as some ingredient substitutions you might like to try.
Make it chocolate - chocolate is a favorite around here. Make this a decadent chocolate whipped cream pound cake with chocolate frosting by adding ¼ cup of cocoa powder to the cake and using only 1.75 cups of flour. And also adding 2 tablespoons of cocoa powder to the frosting.
Make it lemon - create a tangy lemon whipped cream pound cake by replacing the vanilla extract with lemon extract and then garnish with lemon zest instead of fresh berries.
Make it almond - replace the vanilla extract with almond extract and sprinkle some chopped almond slivers on top of the frosting instead of fresh berries.
Use store bought frosting - it's not recommended to use store bought whipped cream in the actual cake. But you can certainly use cool whip or another type of store bought whipped topping to frost the cake with.
Use a different pan - instead of a loaf pan, you can also use a bundt cake pan, if desired.
If you like fruity cakes and pies, but want something that is an individual serving, try out these mini apple pie tarts.
⏲️Instructions
Use the following step-by-step instructions and process photos to help you bake up this perfectly moist whipped cream pound cake.
Step one: Grease loaf or bundt pan with cooking spray or butter and set aside. Then, preheat the oven to 350 degrees Fahrenheit.
Step two: In a large mixing bowl, add the heavy whipping cream and beat it by hand or with a stand mixer until stiff peaks form.
Step three: Add the eggs and vanilla and mix them in completely.
Step four: Add the flour, sugar and baking powder to the bowl and carefully fold them in. Make sure everything is well combined.
Step five: Pour the batter into the loaf pan and shake it a little so that it is evenly distributed (batter will be thick). Put it in the oven for 50 - 55 minutes or until fork/knife/toothpick comes out clean when inserted in the center.
Step six: while the cake is baking, take the whipped cream for the frosting and whip it by hand or with the mixer until stiff peaks form.
Step seven: Add in the powdered sugar and mix it until it is smooth and well combined.
Step eight: once the cake has completely cooled, add the frosting and garnish with fresh berries on top.
Hint: this cake will have a slightly crisp, golden brown outer layer, but is soft and moist inside. Be sure that you bake it until you can stick a toothpick, knife or fork into the center and have NO crumbs or batter stuck to it when you remove it. Sometimes, it's tempting to think it is done because the outside looks golden brown.
⭐Recipe Tips for Success
Don't overwork batter - overworking or overmixing the batter can lead to the cake being thicker and heavier instead of light and velvety. Only mix just enough to combine the ingredients.
Don't overheat or overcook - overcooking or cooking at too hot of a temperature can lead to a dry cake. Make sure to keep it at 350, or you can even go to 325 and cook a little longer.
Don't overwhip - overwhipped the heavy cream both in the cake and for the frosting can cause it to get really thick like butter. This effects the texture of the cake to be less light, airy and velvety. So, make sure you whip the cream until it starts to create peaks, but don't keep going after that.
Make sure the outside is golden brown - one of the keys to a good pound cake is a slightly crusty, golden brown outside.
Accurately measure the flour - adding too much flour can easily make this cake rather dry. Make sure to either weigh it on a digital scale. Or spoon it into the measuring cup without packing it down and then scrape across the top with a knife to level it out.
Cool completely - cool the cake completely before removing it from the pan or frosting it so that the cake stays together and the frosting doesn't melt.
Add eggs one at a time - add the eggs and mix them in one at a time. This helps to keep the batter moist and fluffy.
Storage
Storing: keep this cake in an airtight container at room temperature for 3 - 4 days, or up to a week in the fridge. It should be kept in the fridge if you have added the frosting.
Freezing: cut into slices, and flash freeze on a cookie sheet until frosting is hard. Then, wrap each slice in cling wrap and place slices into a ziplock bag or airtight container and freeze for up to 6 months. Defrost by placing in the fridge overnight still in the wrapping.
💭FAQ's
What is the purpose of whipping cream in a cake?
Using whipping cream in a cake instead of butter or oil creates a very light, velvety texture for the cake.
What makes a pound cake turn out dry?
Overbaking can easily make a pound cake turn out dry. Be sure to bake it at a low temperature and only as long as it takes to make the center slightly firm. Additionally, too much flour can cause it to become dry.
Can you overmix a pound cake?
Yes, you can definitely overmix a poundcake which will cause it to be thicker and heavier.
Print Recipe
Whipped Cream Pound Cake
This moist, velvety whipped cream pound cake is a must try. You only need 7 ingredients and an hour to make the cake and frosting. The fresh berries are festive for summer and 4th of July. Or change up the garnishes and flavors easily for other occasions.
Equipment
Loaf Pan

2 Mixing bowl

Hand or Stand Mixer

or you can whisk it by hand

measuring cups

Measuring Spoon

Large spoon or spatula
Ingredients
Whipped cream pound cake
2

cups

Flour

1

cup

Granulated Sugar

2

Teaspoons

Baking Powder

1.5

Cups

Heavy Whipping Cream

1

Teaspoon

Vanilla Extract

2

Eggs
For Whipped Cream Frosting
1

cup

Heavy whipping cream

.5

cup

Powdered sugar

Fresh Berries
Instructions
For Whipped Cream Pound Cake
Grease the loaf pan with cooking spray or butter and set aside.

Preheat the oven to 350 degrees Fahrenheit.

In a large mixing bowl, add 1.5 cups of heavy cream and with a whisk by hand or a stand mixer beat it until it forms stiff peaks.

Add 2 eggs and 1 teaspoon of vanilla and mix in completely.

Combine 2 cups flour, 1 cup granulated sugar and 2 teaspoons of baking powder in a separate bowl. Slowly fold the dry ingredients in with the wet ingredients until they are completely mixed.

Pour the batter into the greased loaf pan. Shake pan to evenly distribute the thick batter.

Bake cake for 55 minutes or until a fork/knife/toothpick can be inserted in the center and come out clean.
For Whipped Cream frosting
While the cake bakes, add 1 cup of heavy whipping cream to a mixing bowl.

Whip the cream with a whisk by hand or hand/stand mixer until it forms stiff peaks.

Add in .5 cup of powdered sugar and combine completely.

Once the cake has cooled, spread frosting over the top of the cake and add fresh berries to garnish.
Notes
Tips & Substitutions
Change the flavor: easily change the flavor by substituting the vanilla for lemon or almond extract and garnishing with the corresponding flavors.  Or substitute .25 cups cocoa powder for flour and and 2 tablespoons of cocoa powder to the frosting for a chocolate flavor.
Don't overmix or overwhip - overmixing the ingredients can lead to a flat, thick cake.  Overwhipping the whipped cream can turn the texture thicker like butter and cause the cake to loose some of the airy, velvet texture.
Accurately measure the flour -  too much flour leads to a dry cake.  Spoon the flour into the measuring cup so it isn't packed down and level it by scraping a knife across the top.
Don't overcook - too high of heat or too long in the oven can lead to a dry cake.
Storage & Freezing
Storing - keep cake in an airtight container for 3 - 4 days at room temperature.  If frosting is added, it should be kept in the fridge in an airtight container for up to a week.
Freezing- flash freeze slices so that frosting is hardened.  Wrap individual slices in cling wrap and then place in airtight container or freezer bag.  Freeze for up to  months.  Defrost overnight in the fridge.