How to Make Rice Crispy Treats may earn compensation from purchases made after clicking links on this page. Learn more Here.
In just about 10 minutes you can have this decadent and delicious easy oven-made s'mores dip ready to go. What could be better than toasted, melted marshmallows and creamy, melted chocolate? It's just as delicious as s'mores made over and open campfire, but is quicker and easier.
This easy to make oven s'mores dip is simply a combination of melted chocolate chips with toasted and melted marshmallows on top. You can use a wide variety of fruits, crackers and chips to dip into this dessert to eat it. If you're going for a classic flavor, you should use graham crackers.
S'mores are classic flavor combination. Just like with these s'mores Rice krispie treats and easy microwaves s'mores, this dessert dip has the crunchy graham cracker flavor combined with sweet chocolate and ooey gooey marshmallow.
This dessert dip is so easy to make and it's perfect for serving at a variety of different occasions such as 4th of July parties and other summer celebrations.
🧁Why To Try This Recipe
Quick and easy: You only need 10 minutes to prepare and bake this dessert dip. All you have to do is layer your chocolate and marshmallows and then toss the pan into the oven.
Only three ingredients: You only need three simple ingredients for this dip. Marshmallows, chocolate chips and graham crackers (or your favorite cookie or fruit to dip with).
Serve anytime: This easy to make dip is a classic flavor combination. It's perfect for serving anytime, from big gatherings and parties to casual get togethers or late night snacks.
Jump to:
🥄Equipment
8x8 oven safe pan
Measuring cup
📋Ingredients
Chocolate chips - any type of chocolate chips will work fine. However, we prefer the flavor of dark chocolate chips. You can use any brand.
Jumbo Marshmallows - jumbo marshmallows work best so that you don't have to add a ton of little marshmallows and it also helps them to get toasty and fluffy. Our favorite brand is Jet Puffed as they tend to melt better than some other brands we've tried.
Graham Crackers - any graham crackers work just fine for dipping. Or, you can use a variety of other cookies, crackers or fruit for dipping.
See recipe card for quantities.
📖Substitutions & Variations
There aren't a ton of things to change up and substitute in this recipe. However, here are a few things you can try if you'd like.
Different Flavored Chocolate - We used dark chocolate for this dip. But, if you prefer white chocolate, milk chocolate or semi-sweet chocolate you can certainly use a different type.
Mini Marshmallows - jumbo marshmallows will give you the best fluffy melted topping. However, if you have mini marshmallows you can use those instead. Just make sure that you create one solid layer of them on top of the chocolate chips.
Chocolate bars instead of chips - You can substitute chocolate bars for the chocolate chips. Simply take your chocolate bars and lay them in a single layer on the bottom of your baking pan.
Make it single serve - If you just want to make a single serving or individual servings you can use oven safe single serving ramekins instead of an 8x8 pan. The process will be the same with a single layer of chocolate topped with a single layer of marshmallows. But, you'll need to adjust the amounts for each ramekin based on its size.
If you love dessert dips, you might also try out this hot chocolate dip or this Oreo fluff.
⏲️Instructions
Here's exactly how to make this easy oven s'more step with step by step instructions.
First, preheat your oven to 450° F. And gather together your 8x8 baking pan, chocolate chips and marshmallows.
Step 1: Pour chocolate chips into 8x8 pan and spread them into a single layer.
Step 2: Place jumbo marshmallows on top of chocolate chips in a single layer.
Hint: Place the marshmallows vertically so that you can fit more marshmallows into the pan for an extra gooey dip. Make sure that they are in a single layer, but placed closely side-by-side.
Step 3: Pop the pan into the oven once it is heated to 450° F. And bake for around 8 minutes.
Note: baking times can vary. It's a good idea to check on your dip at about 5 minutes to see if everything is melting properly. You know it's ready when both the marshmallows and chocolate have melted in the marshmallows have a golden brown toasted tops.
⭐Recipe Tips for Success
To ensure that you have the perfect dip, make sure that both your chocolate and your marshmallows are each done in a single even layer. Otherwise, you won't get even melting and you can have some parts of the dip that aren't properly melted or some that are burned.
Storage & Reheating
If you don't finish all of this dip in one sitting, you can store it in the fridge and reheat it to serve at a later date.
Storage: once the dip is completely cooled, place any leftover dip in an airtight container in the refrigerator for up to three or four days.
Reheating: simply pop your oven safe pan back in the oven at 350° for around 3 to 5 minutes or until the marshmallows and chocolate get melted and gooey.
💭FAQ
What is a substitute for graham crackers in s'mores?
You can use a wide variety of things other than graham crackers for this dip some good substitutions include animal crackers, Ritz crackers and even pretzels.
How long do marshmallows take to melt in the oven?
In general, it takes marshmallows around 5 minutes to melt in the oven assuming you have it set to 350 to 450° F. Setting your oven at the higher temperature or even up to broil will allow the marshmallows to get a toasty top.
What is the best chocolate to use for s'mores?
Certainly, one of the most popular chocolates to use for s'mores is Hershey's chocolate bars. However, the best chocolate to use is really just whatever brand and flavor you prefer the most.
🍴What to Serve with this Dip
Graham Crackers
Ritz Crackers
Strawberries
Pretzels
Potato Chips
Banana Slices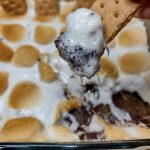 Print Recipe
S'mores Dip
Whip up this delicious and easy to make oven s'mores dip in 10 minutes or less with only three ingredients. It's full of gooey, gooey chocolate and marshmallow flavor.
Equipment
1 8x8 Baking Pan

Measuring Cup
Ingredients
1.5

Cups

Chocolate Chips

25

Jumbo Marshmallows

Graham Crackers

for dipping
Instructions
Measure out 1.5 cups of chocolate chips and spread them in a single, even layer in the bottom of the 8x8 pan.

Place 25 jumbo marshmallows vertically in a single layer on top of the chocolate chips.

Bake in oven for approximately 8 minutes or until both chocolate chips and marshmallows are melted. And marshmallows have a golden brown toast on top.

Remove from oven and serve while still warm with graham crackers or other items for dipping.
Notes
Tips & Substitutions:
Make sure that both try chocolate chips and the marshmallows are each just a single, even layer to ensure that they melt thoroughly.
You can use chocolate bars in place of chocolate chips if desired.
You can use mini marshmallows in place of jumbo if desired.
Make individual servings by using single serve, oven safe ramekins instead of an 8x8 pan.
Serving, Storage & Reheating:
Serving- serve immediately, while still warm. Serve with graham crackers, fruit or any other cookie or crackers you prefer.
Storage- if you have leftovers, allow it to cool completely. Then, store in the fridge in an airtight container for 3-5 days.
Reheating- place in the oven at 350°F for around 3-5 minutes or until chocolate and Marshmallows are once again melty.