How to Make Rice Crispy Treats may earn compensation from purchases made after clicking links on this page. Learn more Here.
Full of cinnamon apple and marshmallow yumminess these Apple jacks marshmallow treats are super easy to make. These dessert snacks work for most any occasion as they don't take long at all to put together and need only a few simple ingredients.
What are apple jacks marshmallow treats?
Apple Jack's marshmallow treats are a combination of Applejack cereal, butter and marshmallows. These simple three ingredient no bake dessert bars are easy to make within 15 minutes.
Apple Jacks cereal, if you are not familiar with it, is a cinnamon apple based cereal made in the shape of small crunchy circles. The circles are green and orange in color.
These Apple jacks marshmallow treats, like other cereal treats such as froot loop cereal bars, Life cereal bars and honeycomb cereal bars are just as easy to make as the original Rice Krispie treat recipe.
The main difference in recipes is simply that dependent on the size of the cereal bites you may need to add more or less cereal to your treats. Apple Jacks being a little larger in size than original Rice Krispies you need to add about a cup more and this recipe as we will detail below.
Variations
Apple jacks is delicious on its own mixed with a marshmallows. However, if you want to add a little extra ounce to your bars here are a few ideas:
Use crushed up freeze dried cinnamon apples: to give these a little extra crunch and flavor, you can crush up a half a cup of freeze dried cinnamon apples and add them to your marshmallow mix.
Add a glaze: these are already quite sweet, but if you want to run up the sweetness, you can add a glaze. Glazes can be made easily with vanilla, milk and powdered sugar. Just drizzle some over the top of your finished bars.
How to Make these treats
With only three simple ingredients you can have these mixed up in no time. They are so easy and you can make a double batch just as quick as a single batch.
Supplies
Ingredients
Instructions
Step One
Grab your Apple jacks, butter, marshmallows, spatula, bowl, pan and pot or microwave safe dish.
You'll also need to pre-grease everything that your marshmallows will be touching. You can use butter or a non-stick cooking spray to do the greasing.
Step Two
The first thing to do is melt your butter and your marshmallows together. This can be done either in the microwave or in a pot on the stove.
In a pot on the stove:
This will take around 10 minutes.
Place 4 tablespoons of butter in your pot and turn the heat to low.
Stirring occasionally melt your butter completely.
Add your marshmallows, 16 oz of them, to the pot with melted butter.
Stir frequently while the marshmallows melt.
Remove from heat once marshmallows are completely melted.
In a bowl in the microwave:
grab your microwave safe dish and place four tablespoons of butter and 16 oz of marshmallows in it.
Place your dish with your marshmallows and butter into the microwave for 30 to 60 seconds.
Take the dish out of the microwave and start everything together until they are combined well.
Place back in the microwave for 30 seconds. Remove after 30 seconds and stir.
Repeat this heating and stirring until marshmallows for thoroughly heated.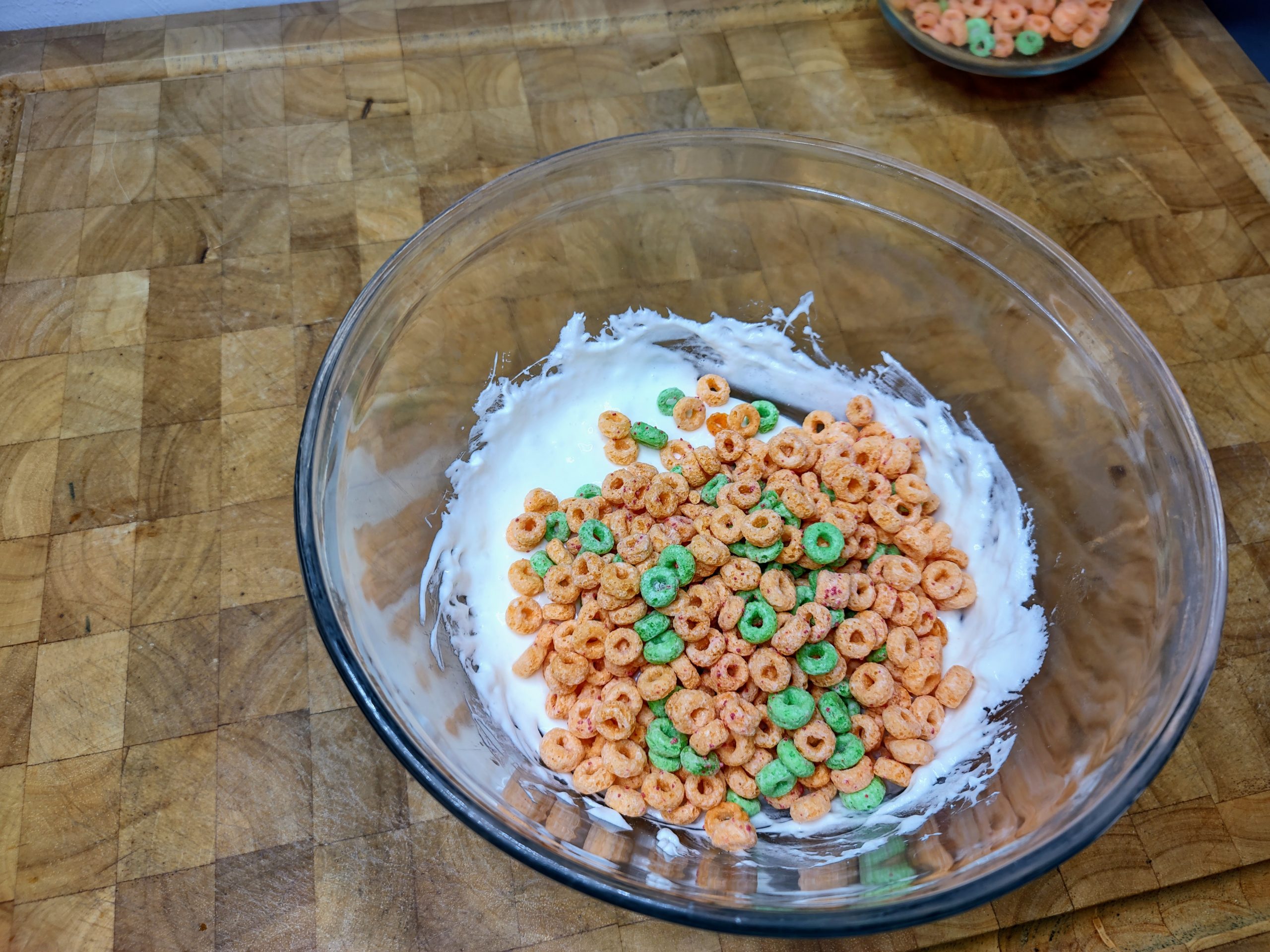 Step Three
Grab your measuring cups and your Apple jacks cereal. Measure out 7 cups of cereal.
Step Four
Slowly add your cereal to your melted marshmallows and butter. It works best if you add about ⅓ of the Total cereal at a time and then fold it into your marshmallows.
Different brands of marshmallows tend to be stickier than others, so you may need to add a little less or a little more cereal depending on the type of marshmallows you used and the consistency you want your bars.
Step Five
Thoroughly grease your pan and spatula. And move your marshmallow cereal mixture from your bowl into your pan.
Pat the mixture down so that it is an even thickness throughout the pan.
Step Six
Set your pan aside and let it cool for around 30 minutes or so. Once your treats have cold, use a greased knife to cut them into 16 evenly sized bars.
Pro Tips
Store your bars well: put them at room temperature and an airtight container for five or so days. If they won't be eaten in this time frame, stick them in a freezer bag and pop them in your freezer.
Don't crush your cereal: when you're folding the cereal into the marshmallow mixture and when you're putting it in your pan, be careful not to press or stir too hard because if you press your cereal it will make your bars too compact.
Use fresh marshmallows: marshmallows can and will get stale easily especially if they are old or open. Still marshmallows will become more stiff and brittle once melted and cooled and lead to hard and compact treats. Therefore, you want to always use fresh unopened marshmallows.
Print Recipe
Apple Jacks Marshmallow Treats
Equipment
Spatula

9x13 Pan

large stock pot

Large mixing bowl

measuring cups
Ingredients
16

oz

Marshmallows

4

tbs

Salted Butter

7

cups

Apple Jacks Cereal
Instructions
Start by making sure that you have everything you need for your treats.

Grab some butter or non-stick cooking spray and grease your pan and your spatula.

Add 4 tbs of butter and 16 oz of marshmallows to bowl that is safe for the microwave.

Heat for 30 seconds at a time, stirring in between heatings.

Keep heating and stirring until your butter and marshmallows are fully melted.

Note: If you want to melt the butter and marshmallows on the stovetop, see the instructions above in the post.

Take 7 cups of Apple Jacks and slowly add the cereal to your marshmallows while stirring.

Ensure that you have an even coating of marshmallows on the cereal and it is well mixed.

Use your greased spatula to transfer the marshmallow and cereal mixture into your greased pan.

Use the spatula to press the treats into your pan so that they are the same thickness throughout the pan.

Allow the treats to cool. This usually takes about 30 minutes.

Once cool, use a knife and cut them into 16 even treats.