How to Make Rice Crispy Treats may earn compensation from purchases made after clicking links on this page. Learn more Here.
I don't know about you, but in our house we love all things cereal and all things chocolate. So when we get a chance to combine the two, we are in heaven. I guess you could say we're cuckoo for Cocoa Puffs cereal bars.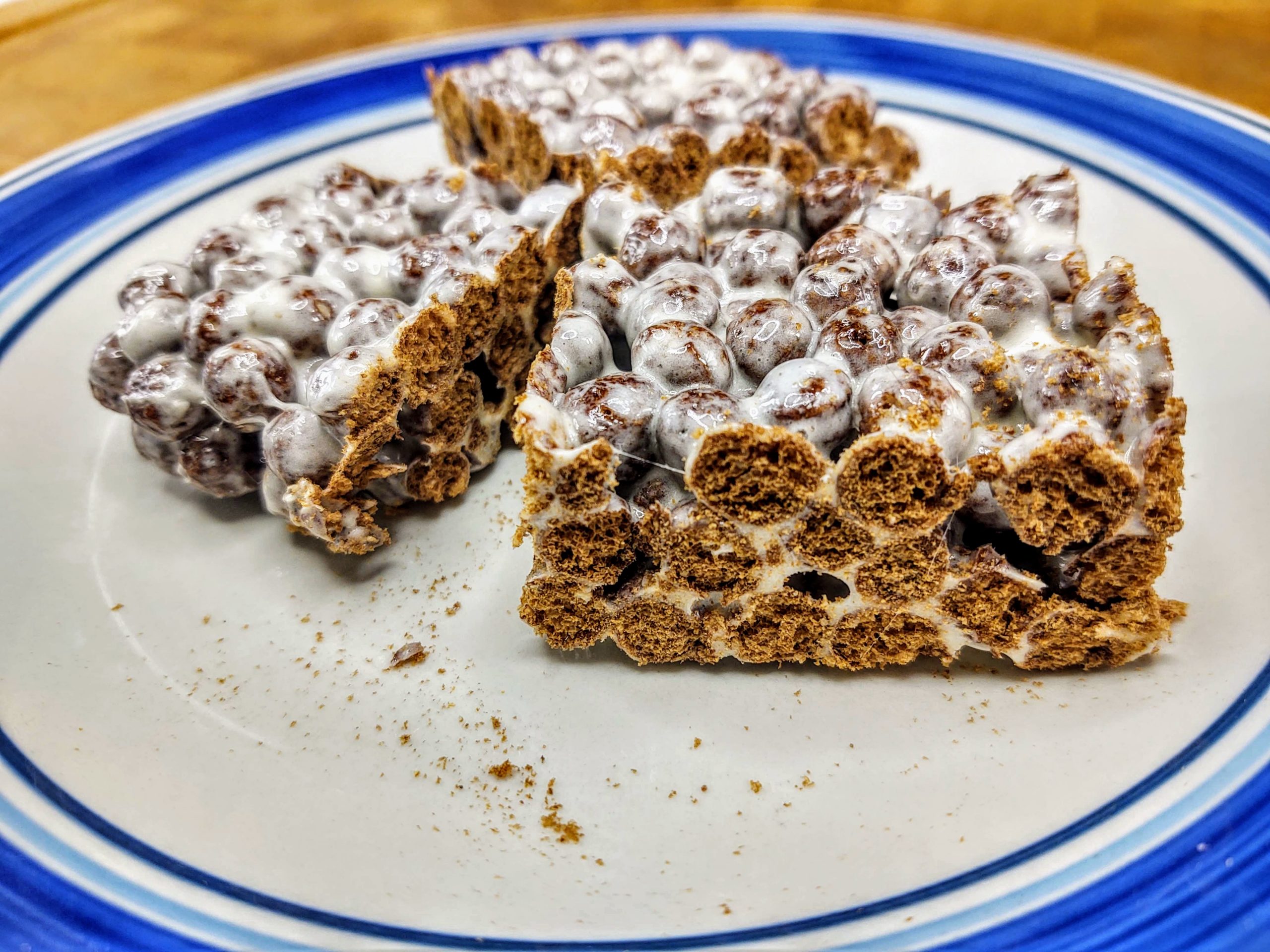 How to Make Cocoa Puffs Bars
Cocoa Puffs Bars are super easy 3 ingredient treats. You can have these whipped up in around 15 minutes. They make the perfect snack or party food.
How can you not like Cocoa Puffs? The chocolaty puffs of sweetened corn, and when you're done eating them, you have a whole bowl of chocolate milk. So, naturally, we decided making Cocoa Puffs cereal bars was a great idea. And we think you'll agree.
These are made just like other cereal bars such as Lucky Charms cereal bars, Trix cereal bars, or Cookie Crisp cereal bars.
Supplies
Ingredients
6 Cups Cocoa Puffs Cereal (use an additional cup for less sticky bars, or cut down an ounce or two of the marshmallows)
16 oz of Jet Puff Marshmallows
4 Tbs Salted Butter
(optional) non-stick canola oil spray
Instructions
These bars can be super sticky, so it is important to grease everything you are using to make them. You can grease your utensils with butter or with non-stick cooking spray.
We tend to use the non-stick cooking spray just because it is a little faster and easier to get a consistent thick coat. But, it does leave a smidge of a flavor in the bars.
Step One
You have two options for melting your butter and marshmallows which is the first step you need to take. You can melt them in the microwave or on the stove.
The stove takes longer at upwards of 10 minutes, but does give you better control when heating the marshmallows. The microwave is faster at just a few minutes.
To use the stove method:
Put your butter in a pot.
Place the stock pot on a burner on your stove and set the heat to low.
It should only take a couple of minutes, but allow your butter to melt.
Once your butter has melted, get out your marshmallows.
We prefer to use a 16 ounce bag of Jet Puff Marshmallows. Jet puff is typically the most consistent in flavor and texture for us, but you can use whatever you like.
Dump the entire bag into the stock pot with the melted butter.
Stir it around with your spatula until everything is completely melted and it has a nice yellow buttery sheen to it.
To use the microwave method:
Place your marshmallows and butter together in a microwave safe dish.
Heat them in the microwave for 30 - 60 seconds.
Take the dish out and stir well.
Heat them again for 30 seconds at a time, and stir in between each heating until marshmallows are fully melted.
Step Two
Now it's time to get out your Cocoa Puffs cereal. Take out six cups and dump them directly into the marshmallow mix.
Grab your spatula again and stir everything together. You'll want to fold the marshmallows over into the cereal until everything is thoroughly coated and you have one big batch.
Note: you can use an additional ½ cup to 1 cup of cereal for less sticky treats.
Step Three
With everything completely mixed and coated together, you can get it into your pan.
Scoop all of your Cocoa Puffs cereal bar mix from the pot and into the baking pan. Spread the entire mixture evenly across the bottom of the pan and flatten until it is completely level.
Now set it to the side and let it cool for about 20 minutes.
Step Four
Once your Cocoa Puffs cereal bars are cool you can cut them. Take out a sharp knife and start cutting them into 2 by 2 inch squares.
Depending on how good you are at eyeballing measurements, you should be able to get between 15 and 16 squares from a 9 by 13 pan batch.
Serve and enjoy!
Store your bars
These bars can last around 3 - 5 days.
They should be kept in an airtight container.
Keep them at room temperature. The cold of the refrigerator makes them harden.
Tips for awesome bars
Add a little extra cereal - since the cocoa puffs are much larger than rice krispies cereal, the marshmallow tends to be dominant in these treats if you use the exact same proportions as the original treats recipe. That's fine if you like sticky treats. However, if you want a little more oomph to your treat use another ½ cup to 1 cup of cocoa puffs and the marshmallow will be less out of control.
Use fresh marshmallows: marshmallows can and will get stale easily if they are old or opened. Stale marshmallow lead to hard, less chewy treats. So, use fresh marshmallows for the perfect texture.
Don't smush them: If you stir too hard and crush the cereal, or if you pack these bars down too hard into the pan you will end up with hard and compact treats. So, try to fold the cereal in and gently press your mixture into your pan.
Heat Marshmallows Just Enough: marshmallows that get too hot or hot for too long turn stiff when they cool which makes the bars hard. So, only use enough heat to melt your marshmallows.
Print Recipe
Cocoa Puffs Cereal Bars
Equipment
9x13 Pan

Spatula

large stock pot
Ingredients
6

Cups

Cocoa Puffs cereal

3

tablespoon

Salted Butter

16

oz

Marshmallows
Instructions
Melt butter and marshmallows together medium heat in a pan on the stove top.

Once melted and mixed, take off heat and add in the Cocoa Puffs cereal.

Thoroughly mix marshmallows and cereal together.

Grease spatula and pan and spread your mixture evenly into the pan.

Let bars sit for 20 - 40 minutes to cool, then enjoy.