How to Make Rice Crispy Treats may earn compensation from purchases made after clicking links on this page. Learn more Here.
This is of the best, easy Christmas desserts is full of reds, greens, chocolate and peppermint. These desserts range from cookies to fluff to rice krispie treats. And, not only are they festive and yummy, they are quick and easy to make.
Jump to:
Christmas (and other winter holidays) are full of bright reds and greens. The flavors of the season include warm gingerbread, sweet chocolate and peppermint.
If you are looking for festive, fun and sweet treats that you can easily make so you have more time for celebrating then the recipes below will suit your needs. Check out easy to bake cookies or no bake treats.
Easy Baked Holiday Desserts
The following easy baked holiday desserts range from festive brownies to easy decorated cookies. Try out a few of these recipes at your next holiday party or get together.
Oreo Red Velvet Cookies
These oreo red velvet cookies are super super festive with their bright red color. They are chewy with a little crunch from the crushed oreos mixed in.
These cookies are a perfect christmas dessert because they are easy to make (the dough is no chill). And, they have a delicious sweet flavor and festive color.
Red Velvet Brownies (from Cake Mix)
These soft and delicious red velvet brownies from cake mix are so easy to make. You only need a few simple ingredients to bake them up.
These are a great addition to any winter get together due to their festive red color. They are also quick and easy to make so you can enjoy your parties instead of spending all day in the kitchen.
Snowball Cookies
If you love winter, then these classic snowball cookies might be exactly what you are looking for to serve at your next holiday party. These round cookies are soft, sweet and rolled in delicious powdered sugar.
These are a great choice for formal and casual get togethers. They are great for both snacking as well as adding to a more elaborate dessert table.
Grinch Hot Chocolate Bombs
Looking for a sweet drink? Let you sweet tooth grow three times it's size by trying out these festive grinch hot chocolate bombs.
These hot chocolate bombs are bright green with red hearts - so have a super festive look. They do take a little time to put together, but your guests (or family) will appreciate how cute they are.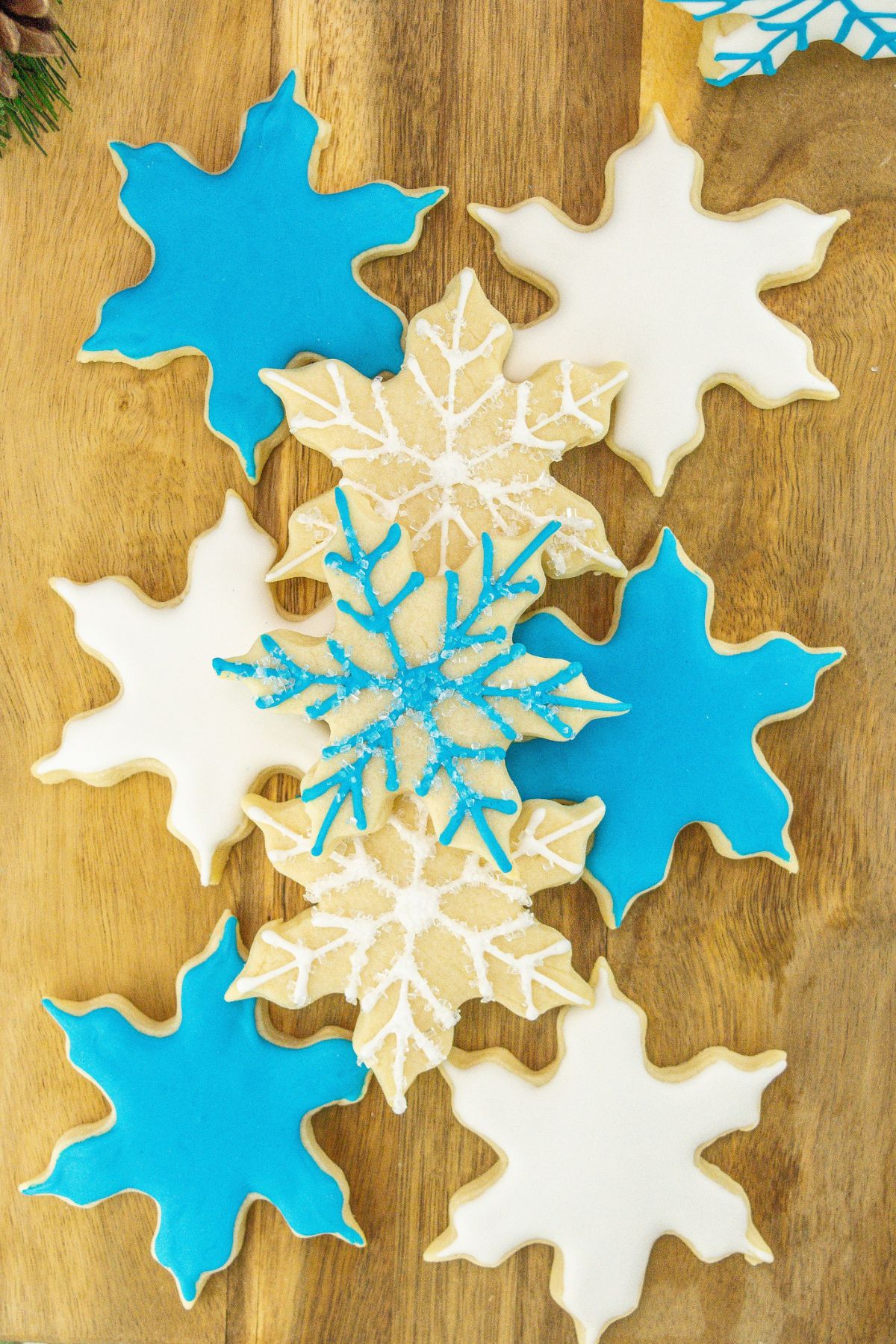 Snowflake Cookies
These decorated snowflake sugar cookies look really elaborate, but are pretty easy to make. And, not only do they look like a delicious slice of winter, they are also soft and sweet.
This recipe is simply a basic sugar cookie dough that is cut into snowflake shapes with a cookie cutter. Then, you can use blue and white frosting and pipping bags to decorate each cookie. These are great for a food project with the kids.
Gingerbread Men Cookies
There's not a cookie much more classic for Christmas and the holidays than gingerbread men cookies. So, of course, this list would not be complete without an entry of these cute, sweet and spicy cookies.
These cookies are fairly easy to make and you can easily make a large batch. They are great for letting the kids decorate. Or, you can package them and give them as edible gifts at the holidays.
Peppermint Dipped Chocolate Cookies
Peppermint and chocolate is a classic flavor combination and screams holiday season. These peppermint dipped chocolate cookies will not disappoint with their sweet, minty and chocolate flavor.
One of the highlights of these cookies is their added crushed peppermint candy sprinkled onto them. It gives a little sweet flavorful crunch and a pretty red color.
No Bake Christmas Desserts
The following festive holiday desserts are all no bake recipes. If you are looking for a sweet winter treat that you can have ready in under 30 minutes, any of these will fit the bill.
Hot Chocolate Fluff
If you love the flavor of hot chocolate, but want something other than a warm drink, then this hot chocolate fluff is the perfect treat to try. It is cool, sweet, creamy and full of hot chocolate flavor.
This sweet dessert dip is a perfect holiday treat because it is easy to make - with only 3 ingredients, it takes about 10 minutes to whip up. Also, it is easy to make a big batch for parties. And, you can use a wide variety of different dipping items from fruits to cookies.
Peanut Butter Fluff
The classic combination of creamy peanut butter and sweet chocolate is a stand out in this Reese's Peanut butter fluff. This sweet dessert dip is topped off with crushed reeses peanut butter cups to really put it over the top.
What makes this a perfect holiday dessert? Most everyone on your party list will love this flavor combination. Plus this is so easy to make with only 6 ingredients. This no bake dip takes only 10 minutes to mix up.
Reindeer Rice Krispie Treats
Who doesn't love Rudolph? These fun, decorated reindeer rice krispie treats are complete with red nose, candy eyes and pretzel antlers. Plus the treats themselves are made with cocoa pebbles for a sweet chocolate flavor.
These fun treats are perfect for serving at parties, but also make good holiday gifts. They are a no bake treat and can be put together in about 15 minutes.
Snowman Rice Krispie Treats
These snowman rice krispie treats are more of an elaborate statement dessert. Though they still don't take terribly long to make, and they are full of ooey, gooey marshmallow flavor.
One of the fun things about this winter holiday themed dessert is that you can decorate your snowman however you like. Change up the colors of his buttons with different colored m&ms, or use different candy for a different color or look.
Grinch Rice Krispie Treats
Help your holiday heart grow three times it's size with these sweet grinch rice krispie treats. Whether you are looking for a holiday movie night snack or a dessert for the dessert table, these fit the bill.
With only 4 ingredients needed, this no bake dessert is super fast and easy to make. You can also customize these a bit by using red candy hearts instead of red decorating gel.
Santa Rice Krispie Treats
These santa rice krispie treats are a super fun and easy decorated treat to make. The recipe itself only uses 4 ingredients and then you just need three more items for decorations.
These decorated christmas themed treats are perfect for making with the kids, serving as a centerpiece on a dessert table or gifting. And, they are fast to make since no baking is required.
Wreath Rice Krispie Treats
These fun decorated wreath rice krispie treats are a perfect sweet treat to make with the kids during winter time. Not only are they colorful, but they are also super yummy.
One of the great things about this recipe is that you can customize how you decorate the wreath. Add whatever decorations you like.
Red Rice Krispie Treats
These red rice krispie treats are a super basic recipe that is so easy to make, but has a bright festive look. You only need 4 ingredients and about 15 minutes to make these sweet no bake treats.
One of the great things about this recipe is that you can serve them as is, or you can use them as the base for more elaborate treats like the santa treats earlier on this list.