How to Make Rice Crispy Treats may earn compensation from purchases made after clicking links on this page. Learn more Here.
Looking for a perfect summer treat? These Strawberry Rice Krispie Treats are just what you need! They have a sweet strawberry flavor and a pretty pink color to match. They're perfect for summer snacking or pink themed parties as well.
How to Make Strawberry Rice Krispie Treats
Strawberry Rice Krispie treats are a super easy to make, no bake dessert. They only take three ingredients and about 10 - 15 minutes to whip them up. As a bonus, these are a super pretty pink color that matches their sweet strawberry flavor.
There are several other ways to make colored rice krispie treats including food coloring like in these Green Rice Krispie Treats or even Jello like in these red white and blue Rice Krispie Treats.
This pink color and fun fruit flavor makes these treats perfect for many occasions such as: Valentine's Day, Anniversaries, Spring Get Togethers, Wedding Celebrations.
Variations
For this batch, we used Strawberry Cereal, but there are several other ways to get strawberry flavored treats. Here are a few other options:
Strawberry Jello - you can add in strawberry jello to the original treat recipe like in the red white and blue treats linked above.
Add in Freeze Dried Strawberries - make an original treat batch and add in 1 cup of freeze dried strawberries.
Add in Fresh Strawberries - add in 1 cup of fresh sliced strawberries to regular rice krispie treats.
Original Treats with Strawberry Icing - make traditional rice krispie treats and then top them with strawberry icing.
Strawberry Cake Batter Treats - instead of making Funfetti treats, use strawberry cake mix to get strawberry flavored treats.
Strawberry Marshmallow Fluff - just like you can use regular marshmallow fluff for treats, you can substitute regular marshmallows for strawberry fluff.
Supplies
Ingredients
Instructions
If you know how to make original recipe Rice krispie treats then you can easily make these as the process is the same - just switch out the cereal.
Step one
The first thing that needs to be done is getting the marshmallow mixture ready. You can do this on the stove in a pot or in a microwave safe bowl in the microwave.
The butter and marshmallows need to be melted and mixed together. The microwave is faster, but you have more control on the stove top.
On the stove: Use low to medium heat and first melt your 4 tbs of butter. Then add in your 10 oz of marshmallows. Continue to heat on low while stirring frequently until melted.
In the microwave: Toss together your 4 tbs of butter and 10 oz of marshmallows in a microwave safe bowl. Start by heating for 60 seconds, then remove and stir well. Then heat at 30 second increments until completely melted. Make sure to stir in between each 30 second increment.
Step two
Once your marshmallows and butter are melted, you need to make sure they are completely mixed together.
Step three
Add in 6 cups of Strawberry Rice Krispies. Make sure you mix them in thoroughly.
Step four
Spread your mixture into a pre greased pan using a pre-greased spatula. Try to make it as even as possible.
Let cool for 20-30 minutes then you can cut and enjoy!
Tips
Here are a few pro tips to get the most out of your treats.
Use Fresh Marshmallows: Fresh, not stale marshmallows will give you the best texture and consistency for your treats. It is best to use a new, unopened bag of marshmallows.
Double the Treats: It is super easy to double the batch just by doubling your ingredients so you have more treats. This is great if you want to freeze some for later or if you need a large batch for a party.
Don't get hard treats: Make sure your treats are soft and chewy by only heating the marshmallows long enough to melt them. Overheated marshmallows will make stiffer treats.
Grease all the things: The mixture of marshmallows is super duper sticky. Pre-grease anything that will be touching it - pan, bowl, spatula.
Storage
For fresh treats you can store them in an air tight container at room temperature for several days. You can leave them in the refrigerator if you prefer, but the cold temperature will cause them to get a bit hard.
If you won't finish them within a few days, then you can consider freezing Rice Krispie Treats for later.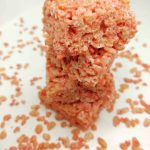 Print Recipe
Strawberry Rice Krispie Treats
Equipment
9x13 Pan

Spatula

Measuring Cup

Pan or Microwave Safe Bowl
Ingredients
6

cups

Strawberry Rice Krispies

4

tablespoon

Salted Butter

10

oz

marshmallows
Instructions
Either on stove top at low to medium heat or in the microwave, melt marshmallows and butter together.

Stir in strawberry rice krispies cereal.

Make sure mixture is well mixed.

Spread mixture into pan with spatula.