How to Make Rice Crispy Treats may earn compensation from purchases made after clicking links on this page. Learn more Here.
My favorite cake is Red Velvet. In fact, we had Red Velvet as our wedding cake. Once we saw how easy our Funfetti Cake Rice Krispie Treats or chocolate pudding Rice Krispie Treats were to make, we knew we HAD to try Red Velvet Rice Krispie Treats.
How To Make Red Velvet Cake Rice Krispie Treats
If you have ever had Red Velvet cake and loved it (I'm speaking to literally everyone on the planet right now) you have got to try Red Velvet Rice Krispie Treats.
These treats make the already great original Rice Krispie Treats even better. You can jazz up any gathering, celebration, or birthday party even better (unless your kids would rather have Disney Frozen themed treats).
Step One
Put your large stock pot on your stove and set the burner heat to medium. Place 4 tablespoons of butter into the pot and allow it to melt.
You can also move it around with your spatula. I don't know if this helps but it makes me feel like it goes faster.
After your butter has mostly melted you can add in your Jet-Puff marshmallows. You can use whichever brand you prefer, we have just found Jet-Puff tends to melt evenly and taste fresher.
You can also use our Microwave Rice Krispie Treats for this recipe.
Step Two
Stir your marshmallows in with the butter until they have completely melted into a buttery yellow tinted marshmallow glob of deliciousness. Now add in 1 measured cup of Red Velvet cake mix and continue stirring.
You will soon have a thick very dark red marshmallow paste. Be careful because this WILL stain if it gets on your clothes.
Now pour in 6 cups of your Rice Krispies. The cake batter makes stirring a little more difficult. We tend to leave the pot on the burner but on low heat just to keep things pliable. Just don't overheat the marshmallows. They get too hard to mix if that happens.
Once everything is mixed together, remove the pot from heat and pull out your 9x13 baking pan.
Step Three
Spray the baking pan and spatula with Canola oil (any non-stick spray will work) and start to move your Krispie cake mix from the pot into the pan. Use your spatula to flatten the mix until it covers the entire bottom of the pan.
Allow your Rice Krispie Treats to cool completely. You can place them in the fridge or freezer (don't forget them, trust me) to hurry the process a little. You want them to be very cool otherwise your icing will melt.
Step Four
When everything is cooled down, use a butter knife to spread icing all over the top of the cake treat. You cake try and dump the batch over and ice the sides like a regular cake. We didn't try that but you may prefer it that way.
Once your iced, sprinkle an aesthetically pleasing amount of red sprinkles across the top, cut, serve, and enjoy!
Want to save more for later?
Double the recipe and make two full batches. Then you can consider freezing Rice Krispie Treats for later.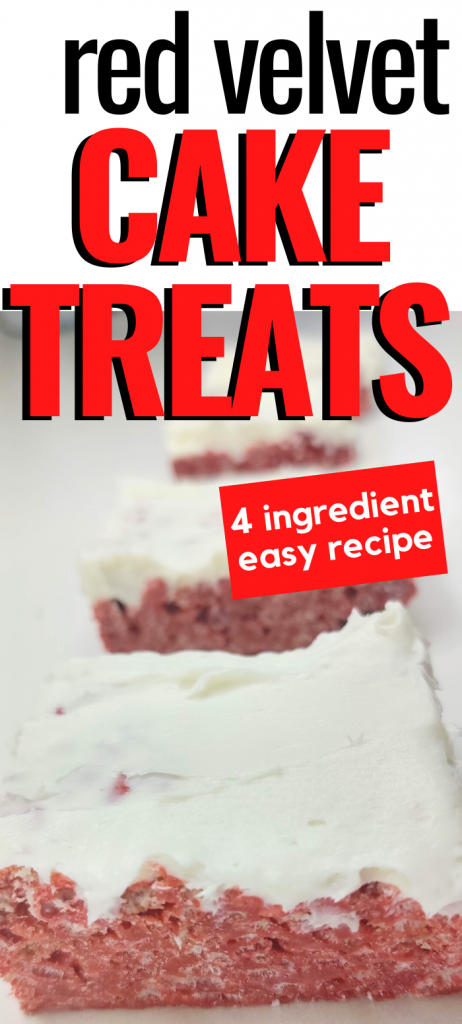 Print Recipe
Red Velvet Cake Rice Krispie Treats
Equipment
9x13 Glass Pan

Measuring Cup

Microwave Safe bowl or Pot

Spatula

Butter knife
Ingredients
6

cups

Rice Krispies Cereal

4

tablespoon

Salted butter

10

oz

Marshmallows

1

cup

Red Velvet Cake mix

½

container

Cream Cheese Icing

(optional) additional sprinkles
Instructions
Melt and mix marshmallows with butter. This can be done on a stovetop or in the microwave.

Add in Red Velvet Cake mix and stir completely.

Add in Rice Krispies cereal and stir completely.

(optional) add in additional sprinkles.

Spread mixture into a buttered or greased pan.

Once cooled (takes about 30 minutes), spread Cream Cheese icing on top.

Add red sprinkles on top of icing.