How to Make Rice Crispy Treats may earn compensation from purchases made after clicking links on this page. Learn more Here.
Some flavor combinations just fit together perfectly. One of those is peanut butter and butterscotch. Add some gooey marshmallows and our favorite cereal in and you have Peanut Butter Butterscotch Rice Krispie Treats!
How to Make Peanut Butter Butterscotch Rice Krispie Treats
Peanut butter butterscotch Rice Krispie treats are super easy no big dessert bars that take only five simple ingredients to whip up. You can have a batch ready to eat and 15 minutes or less.
Peanut butter is such a great base ingredient. It blends perfectly with just about anything, whether it's butterscotch, chocolate and peanut butter, peanut butter cups, or caramel Rice Krispie Treats.
When it comes to peanut butter and Rice Krispie Treats, you just can't lose. Let's get this peanut butter party started!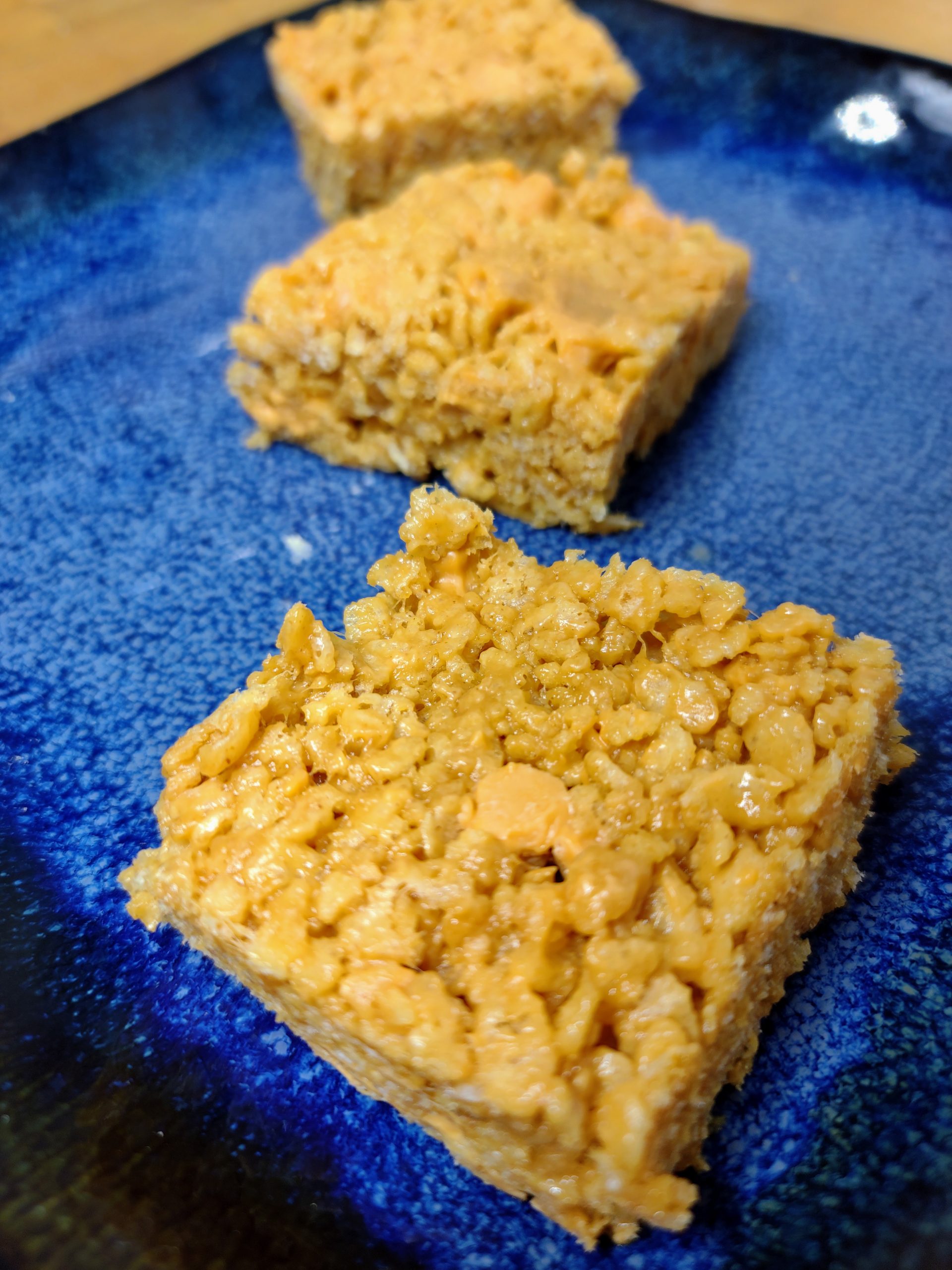 Step One
We start by melting our butter in a large stock pot on medium heat. Once your butter has melted, or at least mostly melted, you want to add in a full 16 ounce bag of Jet Puff Marshmallows.
Use a spatula to stir the marshmallows into the butter until everything is completely melted together. Once your marshmallow and butter are melted, go ahead and add in your peanut butter.
Stir your peanut butter and marshmallows together until they are thoroughly mixed. Remove it from the heat and move to step two.
Note: if you want to speed the process up from 8 to 10 minutes to more like 2 minutes then you can microwave your Rice Krispie treats. Simply toss your butter and marshmallows into a bowl that is safe to microwave. Then, microwave for 30 to 60 seconds to get started and stir well. After that, microwave in 30 second increments stirring between until the marshmallows are well melted. Finally, at one cup of peanut butter in and stir that in.
Step Two
Take out six measured cups of Rice Krispies cereal and stir them into the marshmallow peanut butter mix. Stir the cereal into the peanut butter marshmallow mix until it is thoroughly covered.
step three
Go ahead and get out your one cup of butterscotch chips.Make sure to save some to the side so that you can melt and use them later in the recipe.
Once the marshmallow mix has cooled enough that you think it should be safe from melting the butterscotch chips, go ahead and dump them into the marshmallow rice crispy mix.
Again, pull out your trusty spatula to stir everything together until you have one cohesive batter.
Step four
For this step we use a 9 x 13 baking pan and canola oil baking spray. You can really use any kind of baking spray as long as it's flavorless, but we just prefer canola oil.
Spray the inside of the pan with the canola oil spray. You don't need a lot. This is really just to make sure the marshmallows don't stick to the pan later when it's time to cut and treats.
Scoop your treat batter out of the pot and into the bottom of your baking pan. Use your spatula to press the batter down into the pan until it is flat and even.
step five
Now you'll want to take the butterscotch chips you set aside earlier and either melt them in a double boiler on your stovetop, or you can just stick him in the microwave. Either way is fine, you just want to make sure that you have butterscotch liquid.
Be careful in the microwave, it is easy to scorch and burn them.

Take your melted butterscotch chips and drizzle them across the entire top of your Rice Krispie Treats. Feel free to get creative with the design.
Step six
Now you'll want to set your Rice Krispie Treats to the side and allow them to cool. You can do this on the countertop for about 30 minutes.
However, for this recipe we like to stick it in the freezer, so that goes a little bit more quickly, and it lets the butterscotch drizzle on top dry a little bit harder.
Step Seven
Once your Rice Krispie Treats have completely cooled, you'll want to get ready to cut them. Remove them from the freezer, take out a sharp knife and cut them into 2 x 2 inch squares. A 9 x 13 pan should make about 16 Rice Krispie Treats.
That's all there is to it! The hardest part of this recipe is deciding if you should share or just keep them all to yourself.
Print Recipe
Peanut Butter Butterscotch Rice Krispie Treats
Equipment
Spatula

9x13 Pan

large stock pot

Large mixing bowl

measuring cups
Ingredients
16

oz

Marshmallows

4

tbs

Salted Butter

½

cup

Butterscotch Chips

½

Cup

Peanut Butter

6

cup

Rice Krispies cereal
Instructions
Gather together all of your supplies and ingredients.

Melt your butter and marshmallows together either on the stove or in the microwave.
Microwave Method:
Combine 4 tbs of butter and 16 oz of marshmallows into a microwave safe dish.

Heat 30 - 60 seconds in the microwave.

Heat at 30 second intervals, stirring in between until marshmallows are melted.
Stovetop Method:
Add 4 tbs of butter to a pot.

Heat on low heat and stir occassionally

When butter is close to being melted, add in 16 oz of marshmallows.

Stir frequently until marshmallows are almost completely melted.

Remove from heat and continue stirring until everything is melted and combined.
Remainder of receipe
Mix in 6 cups of rice krispies slowly, stirring while you add.

Once cereal and marshmallows are combined, move your mixture into your greased pan.

Lightly press mixture into pan to create an even thickness.

Set pan aside to cool for around 30 minutes.

Once cool, cut into 16 even squares.