Golden Grahams is one of the best breakfast cereals out there. So naturally we just had to make Golden Grahams cereal bars. Their delicious graham cracker flavor mixed with honey and brown sugar makes them incredible when you add in a little marshmallow.
How to Make Golden Grahams Cereal Bars
As much as we all love homemade, original Rice Krispie Treats, sometimes we need something just a little bit different. That's where the magic of cereal bars comes in.
If you've never made cereal bars before, you are in for a treat! Golden Grahams joins a lineup of Lucky Charms, Trix, Fruity Pebbles, Cinnamon Toast Crunch, and many other cereals that mix well with marshmallow to become delicious snacks.
You don't need any extra ingredients or supplies to make this recipe, so let's get right to it!
Step One
Take out a large stock pot, put it on your stovetop, and set your heat to medium. Next, put your butter in the pot and allow it to melt.
Once your butter has mostly melted, add in a full bag of Jet Puff Marshmallows. Use a spatula and stir the marshmallows until they melt into the butter.
When the marshmallows are melted all the way, decrease the heat down to low. If marshmallows are heated too hot for too long, they tend to become brittle and stiff.
Step Two
If you haven't already pre measured them, take out 6 measured cups of Golden Grahams cereal and dump it directly into the melted marshmallows. Stir everything together until it is thoroughly mixed and all of the cereal is covered in marshmallow.
Remove the pot from the heat and set it to the side.
Step Three
Take out a 9 x 13 baking pan and coat the bottom and inside walls with canola oil spray or your favorite flavorless baking spray. This is done to prevent sticking later.
Scoop the contents of your large stock pot into the baking pan. Use your spatula to spread the cereal treat mix across the bottom of the pan. You may need to press it down so that everything is flat and level.
Set the pan to the side and allow it to cool for about 1/2 an hour.
Step Four
Once everything is completely cooled, it's time to cut. Take out a sharp knife and cut your Golden Grahams cereal bars into 2 x 2 inch squares. A 9 x 13 pan should give you about 16 squares total.
And you're done! Now all you have to do is serve them an enjoy.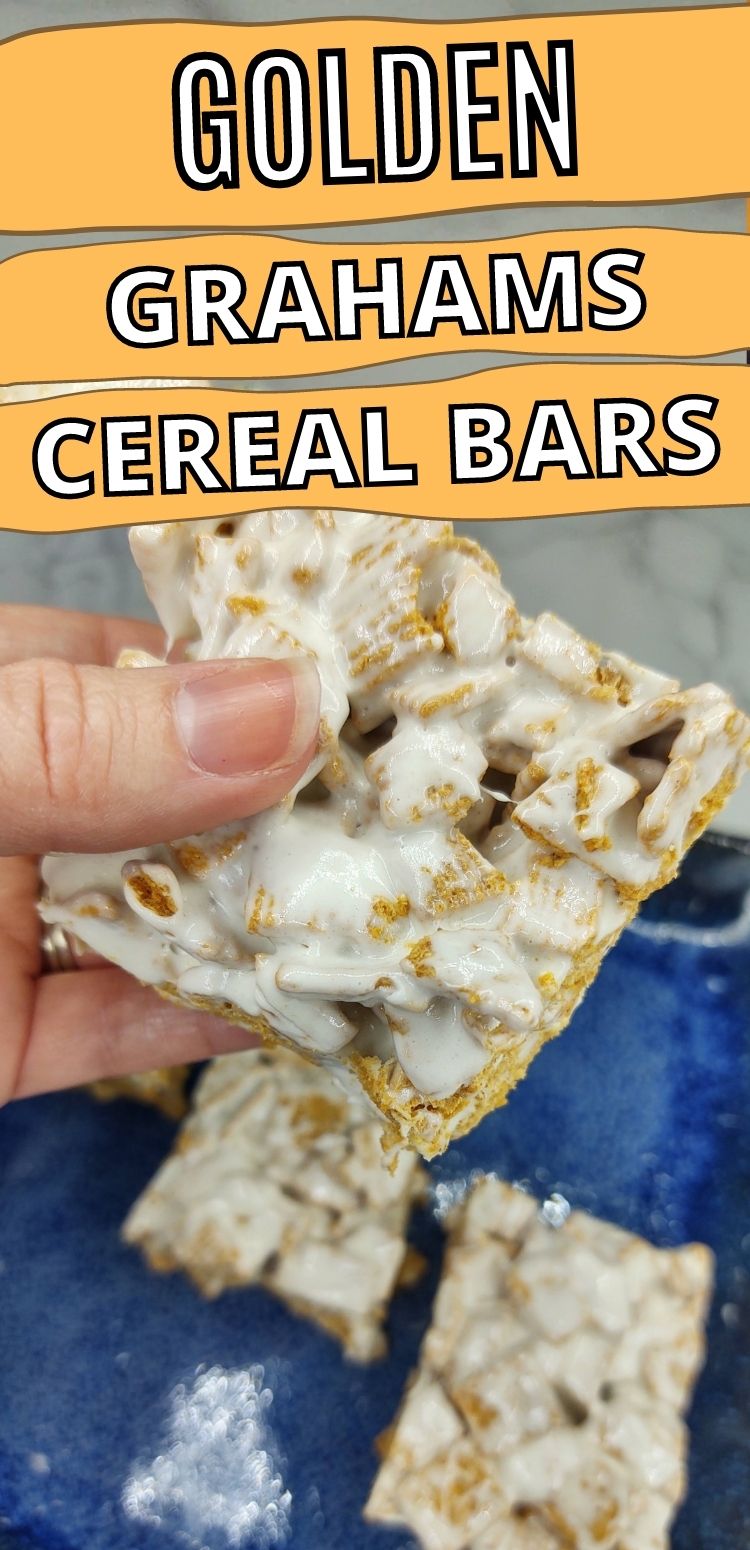 Print Recipe
Golden Grahams Cereal Bars
Equipment
9×13 Pan

Spatula

large stock pot
Ingredients
6

Cups

Golden Grahams cereal

3

tbsp

Salted Butter

16

oz

Marshmallows
Instructions
Melt butter and marshmallows together medium heat in a pan on the stove top.

Once melted and mixed, take off heat and add in the Golden Grahams cereal.

Thoroughly mix marshmallows and cereal together.

Grease spatula and pan and spread your mixture evenly into the pan.

Let bars sit for 20 – 40 minutes to cool, then enjoy.
For more delicious Rice Krispie Treats