How to Make Rice Crispy Treats may earn compensation from purchases made after clicking links on this page. Learn more Here.
Looking for some brightly colored and festive treats for your next party or get together? Try these pink and gold Rice Krispie treats. Easy to make and look so fancy and fun.
What are pink and gold rice krispie treats?
Pink and gold Rice Krispie treats are your traditional recipe of butter, marshmallows and Rice Krispie cereal mixed with pink food coloring and edible gold glitter spray. These five ingredient and no big treat bars are super delicious, easy and fun to make and can be ready in 15 to 20 minutes.
These treats are perfect for Valentine's Day, anniversaries or even baby showers. They're sure to be the stars and piece on any dessert table with their fancy looks and sparkly glitter.
Variations
If you want to mix things up a little here are a couple additional ideas for how to make these treats:
Use a different pink color: instead of using pink food coloring you could use something like watermelon jello, or strawberry Rice Krispies.
Dip them: use pink candy melts to color one half of your treats pink and use gold candy melts to color the other half gold.
Use edible glitter: instead of using any food coloring, make original recipe rice Krispie treats add some white icing or dip them in white chocolate and then use pink and gold edible glitter spray.
Make them Rice Krispie pops: use a sturdy straw or lollipop stick that could either be pink or gold to turn these crispy treats into Rice Krispie pops.
How to Make these treats
If you've tried out our pink Rice Krispie treats or our gold Rice Krispie treats then you're sure to be able to make these pink and gold ones with ease. They look fancy but they're not difficult at all.
Supplies
Ingredients
Instructions
Step One
Make sure you've got everything you need including your gold edible glitter, pink food coloring, butter, Rice Krispies cereal, marshmallows, microwave safe bowl or pot, pan, spatula, and measuring cups.
Take your spatula and your pan and grease them up well. To do this you can use either butter or a nonstick cooking spray. No matter which you choose make sure to coat everything well so that your marshmallows don't stick on everything.
Step Two
Now we need to melt together our marshmallows and butter. This can be done either melting them in a pot on the stove or in a bowl in the microwave.
Melted in the microwave:
Melting in the microwave only takes just a few simple minutes.
Grab your 16 oz of marshmallows. Grab your four tablespoons of butter. Toss them both into your microwave safe dish.
Grab your bowl for butter and marshmallows and stick it into your microwave. Heat them together for 30 to 60 seconds.
Take your bowl on out of the microwave and stir everything up well.
Go ahead and put that bowl full of butter and marshmallows back in the microwave for about 30 seconds.
When that 30 seconds is up, take it back out and give it another stir.
Continue and repeat with the stirring and heating at 30 second intervals until you have completely melted your marshmallows.
Melted on the stove top:
This method will take you a little longer. It will take around 8 or 10 minutes. However, you may have chewy retreats given that you have better control over how much heat you apply to your marshmallows.
Grab your four tablespoons of butter and toss that into your pot.
Go ahead and put that pot full of butter onto low heat on your stove top.
Heat your butter until it is almost fully melted, stirring occasionally.
Grab your 16 oz of marshmallows and toss that into your pot with your melted butter.
Heat your marshmallows until they're almost fully melted, stirring frequently.
Went almost fully melted, removed from the heat, but continue stirring until they have completely melted.
Step Three
Grab a hold of your pink food coloring and add several drops into your marshmallow and butter mixture. Stir it as you're adding your food coloring.
You may want to add a little extra food coloring to make the color slightly darker than your desired in color because when you add the cereal in the next step it will become a little lighter in color.
Step Four
Grab your 6 cups of Rice Krispies cereal and slowly add it into your pink marshmallow mixture. Make sure that you stir the cereal as you add it so that you get a consistent coating over the entire batch of cereal.
If at this point your pink color is lighter than your desired color go ahead and add a few more drops of food coloring stirring well.
Step Five
Now we're going to press our treat mixture into our greased pan. Using your spatula, transfer the marshmallow and cereal mixture from your bowl into your pan.
Using that same spatula, use it to gently and lightly press the mixture into the pan so that it isn't even thickness and consistency across the entire pan.
Step six
Cool your treats off by sending them aside for approximately 30 minutes. Once they've cooled down a bit, go ahead and take a knife that has been greased and cut them into 16 squares.
Step seven
Go ahead and take your gold edible spray glitter and spray your pink treats with it. You can spray the entire thing with a light coating so that there's gold sparkle on Top of the pink or you can spray only one half so that you have a pink half and a gold half.
Pro Tips
Use a little extra color: make sure you use a little extra pink food coloring when you're adding it so that the cereal doesn't lighten your color too much. It's a lot more difficult to get an even distribution of food coloring if you have to add it after the cereal is added.
Try out different gold patterns: you don't have to make all your treats the same. You can spray some all over with a light gold you can spray some with a strip in the middle you can spray some half. Mix it up for a wide variety of treats.
Don't overheat those marshmallows: overheated marshmallows become brittle due to the crystallization of the sugar content. You do want to melt them, but you don't want to use more heat than necessary. Make sure you only apply heat long enough to just get them good and melty.
Store your treats
These treats should last around 5 days give or take a few been kept at the correct conditions.
You can keep them in field Ziploc bags or pyrex with lids just as long as it's an airtight container.
For maximum consistency and texture make sure that they are at room temperature. Colder temperatures will make them harder and hotter temperatures will make them too soft and melty.
You can also freeze your treats for later by wrapping them individually and putting them in freezer bags then sticking them in the freezer.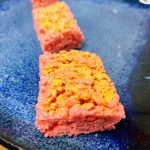 Print Recipe
Pink and Gold Rice Krispie Treats
Equipment
Spatula

9x13 Pan

large stock pot

Large mixing bowl

measuring cups
Ingredients
16

oz

Marshmallows

4

tbs

Salted Butter

6

cups

Rice Krispies cereal

Pink Food Coloring

Edible Gold Glitter Spray
Instructions
Get all the the supplies and ingredients that you need to make your treats.

Use a non-stick cooking spray or butter to grease your pan and spatula well.

Melting your butter and marshmallows can be done in the microwave which is detailed below, or on the stovetop which is detailed in the post above.

Toss your 4 tbs of butter and 16 oz of marshmallows into a bowl.

Pop the bowl with butter and marshmallows in the microwave.

Heat butter and marshmallows for 30 - 60 seconds.

Stir the butter and marshmallows together well.

Return bowl to microwave for 30 seconds.

Continue to heat for 30 seconds and stir after until butter and marshmallows are totally melted and mixed together.

Add in pink food coloring and stir.

Note: you want your color to be a little darker than desired color as it will lighten after cereal is added in.

Add your 6 cups of rice krispie cereal into the butter and marshmallows.

Note: do this a little at at time, while stirring.

Once cereal is totally added in to marshmallows and butter, move the mixture from your bowl into your pan.

Gently press the mixture down in the pan until it is the same consistency and thickness.

Set the pan of treats to the side for around 30 minutes to cool.

Use a knife that has been greased to cut treats.

Take your gold spray and spray half of each treat.