How to Make Rice Crispy Treats may earn compensation from purchases made after clicking links on this page. Learn more Here.
Whether you are celebrating a kid's birthday, a Pride event, or just any happy and fun occasion, Rainbow Rice Krispie Treats will fit right in. These bright colored treats are super fun to make and taste super yummy.
How to Make Rainbow Rice Krispie Treats
Rainbow rice krispie treats are super colorful 3 ingredient, plus 6 food colorings, dessert bars. These do take a little longer than regular treats since you have to mix up a batch for each color and then layer them together.
We are going to use some techniques we have already learned in our other colored Rice Krispie Treats recipes. We're going to use all colors this time. Just remember ROY G BIV; red, orange, yellow, green, blue, and purple (instead of indigo and violet).
Supplies
Ingredients
Instructions
This recipe calls for making small batches in stages. So we will take our normal ingredient amounts and make quarter batches instead. For example:
9 Tablespoon Butter Total = 1½ Tablespoon per colored batch
9 Cups Rice Krispies Total = 1½ cup per colored batch
1½ bag Jet Puff Marshmallows 24 oz = about 4 oz per batch
We recommend making these treats a little thicker than normal because taking the regular amount of ingredients and diving them by 6 colors really makes such a small amount of marshmallows to melt that it becomes difficult to work with.
Since there are so many stages to this dessert, we recommend starting with purple and complete up to step 3. Then go back to step 1 with the next color, blue, and repeat until all 6 colors (green, yellow, orange, red) are complete.
Let's dive right in!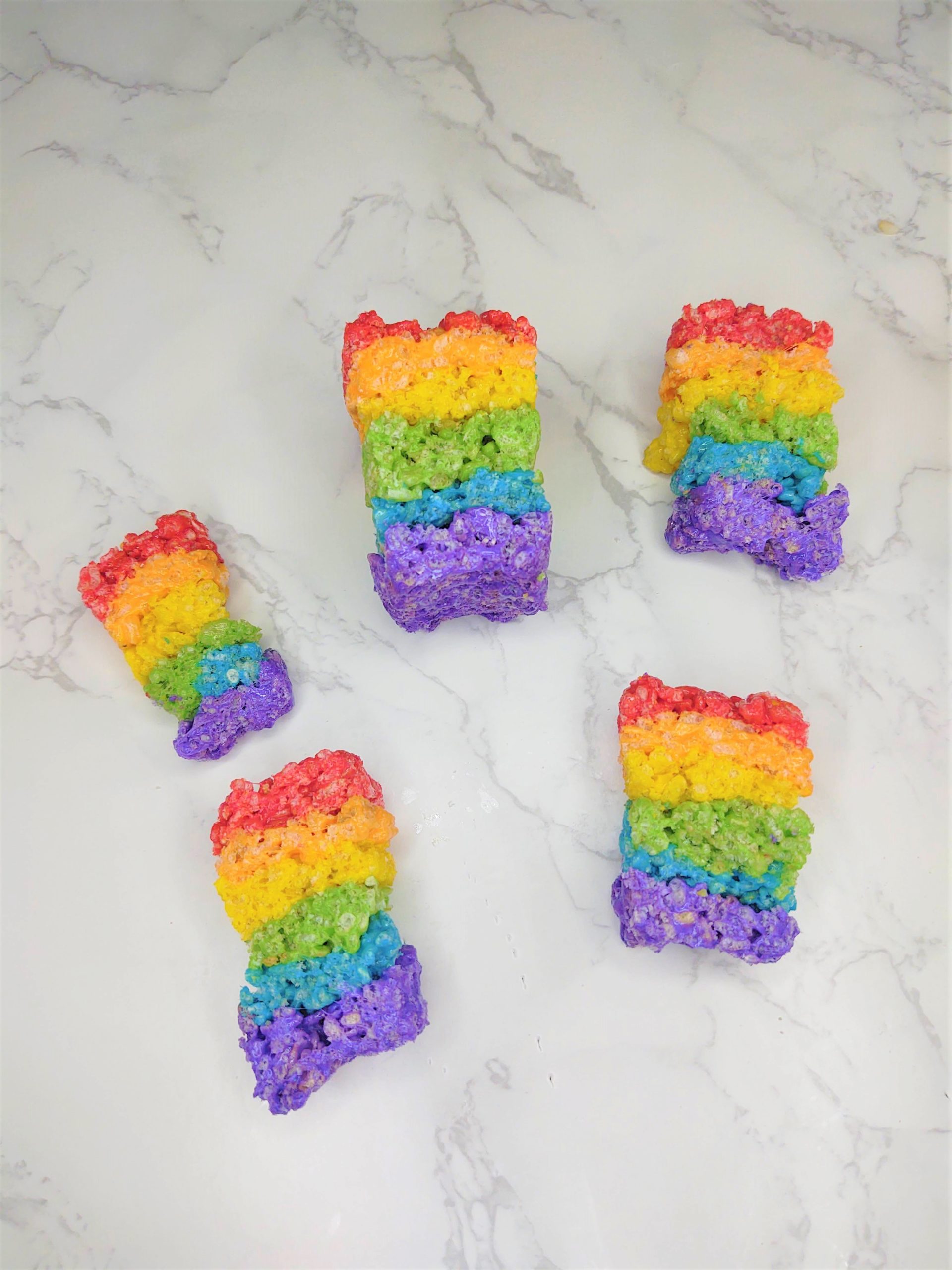 Step One
Start melting your butter in a pot on the stove on low heat. Once the butter melts, add in around 4 oz of Jet Puff Marshmallows. Stir with a spatula until the marshmallows and butter are completely melted together together.
We are going to start with the purple layer first, and then go in reverse order until we finish with red. The order of colors should be purple, blue, green, yellow, orange, and red.
Take the pot off the heat. Take your purple food coloring and pour it into the marshmallow mixture and stir until it is the color purple you want.
Step Two
Once you have your marshmallows the color you want, you will want to add in 1½ measured cup of rice krispies cereal. Typically, we would just dump them right in. Since we are dealing with such small amounts of batter this time around we suggest pouring the cereal in slowly as you stir.
We do this so that we don't end up with too much cereal in the cereal to marshmallow ratio. Once you have added your Rice Krispies, you can move to the next step or add more food coloring if you need to. Sometimes the cereal will soak up the food coloring and dull the color.
Step Three
Spray the bottom and sides of a 9 x 13 baking pan with a canola oil spray, or any flavorless baking spray or butter. Now dump your treat batter into the bottom of the pan or onto the previous layer of Rice Krispie Treats.
Once you have completed this step, go back to Step One and repeat these steps until all 6 colors are complete.
Step Four
Now that all 6 colors have been completed and layered together set the entire pan to the side and allow them to cool. They should be mostly cool since the bottom layers have been finished for a while. You can stick them in the fridge or freezer to speed this part up.
Step Five
Now that everything is sufficiently cooled it is time to cut them!
Take out a sharp knife and carefully cut your treats into 2 x 2 inch squares. This should give you about 16 squares per batch.
If you notice the color layers starting to separate while cutting they may not be cool enough yet. Use your spatula to press the top layer down again so they stick together a little better and then put them back in the refrigerator until they are a little cooler.
Once you have them all cut you will have a whole batch of bright and colorful (and delicious) treats!
Tips for the best treats
You can store them in an airtight container at room temperature for 3 - 5 days.
If they aren't consumed within 3 - 5 days, freeze them for later.
If you don't have purple food coloring mix blue and red.
If you don't have orange food coloring, mix red and yellow.
If you don't have purple food coloring, mix blue and red.
Even though they need to be pressed into each layer, make sure not to smash too hard or you might end up with harder, more compact treats.
With smaller amounts of marshmallows, be extra careful with heating them during melting. It should go pretty quickly and you don't want to overheat them.
Print Recipe
Rainbow Rice Krispie Treats
Equipment
Spatula

9x13 (for full batch)

measuring cups

large stock pot
Ingredients
9

Tablespoon

Butter

9

Cups

Rice Krispies

1½

16 oz bag

Jet Puff Marshmallows

24oz

red food coloring

orange food coloring

yellow food coloring

green food coloring

blue food coloring

purple food coloring
Instructions
Preparation and Important Information
Sort all ingredients into ⅙ portions (example: 1½ TBS butter, 1½ cup cereal, etc)

set each portion aside with each of the 6 food colorings

start with purple and continue steps until you have all colors layered in the pan

you should make the colors in this order: purple, blue, green, yellow, orange, red
Step One
put 1½ tablespoon butter in large stock pot and melt

add in 4oz of marshmallows

stir until marshmallows and butter have blended together

add food coloring
Step Two
add in 1½ cup of Rice Krispies and stir until well blended

add more food coloring if needed
Step Three
spray 9x13 pan and spatula with non stick cooking spray

press Rice Krispie mix into the bottom of the pan and flatten it out

place to the side

repeat until all colors are complete and layered

place to the side and let cool
Step Four
cut into 2 x 2 inch squares

serve and enjoy